Kate Middleton and Prince William have reaped this huge benefit from Harry and Meghan's explosive interviews
Kate Middleton and Prince William have taken something positive from the royal rift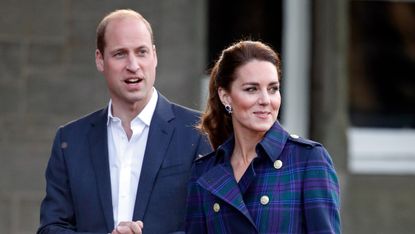 (Image credit: Photo by Max Mumby/Indigo - Pool/Getty Images)
Kate Middleton and Prince William have reportedly benefitted from Prince Harry and Meghan Markle's dramatic royal family exit and explosive interviews in one crucial way.
---
According to royal expert, Camilla Tominey, the growing tensions between the royal family and Prince Harry have brought the Duke and Duchess of Cambridge closer than ever.
While Prince Harry recently admitted that he and his brother are on different paths and claimed that Prince Charles stopped taking his phone calls when he left for America, journalist Camilla claims that the family drama has been great for uniting Kate and William.
"It seems an unexpected consequence of the family conflict has been to help William and Kate find equilibrium in their own marriage," Camilla wrote for The Telegraph.
Adding that former commoner Kate and the future King were once from different walks of life, Camilla suggested that the family strife and public scrutiny the royals have faced this year has meant that the Cambridge couple have been able to become one and the same.
"What started out as an uneven match between a blue-blooded prince and his 'plus one' has now blossomed into a two-peas-in-a-pod kind of partnership."
Camilla also shared reports that Kate is keen for Prince Harry and Meghan Markle to re-form their bonds with the monarchy.
" have been reliably informed she was even telling her friends before the Oprah interview that she did not think it was too late to 'pull them back in'."
Prince Harry and former Suits star Meghan left royal fans astonished when they opened up on their rocky experience as a couple both in and out of The Firm, in an exclusive tell-all Oprah interview in March.
The chat saw the couple make shocking claims about the monarchy, while Meghan told of her suicidal feelings during her time in the royal spotlight and Harry shared details of his strained relationships with his father and brother.
It was also alleged that a member of the family had made a racist comment about Archie Harrison Mountbatten-Windsor's skin before he was born and Meghan admitted she felt the decision to not give him a prince title was partly because of his race.
"In those months when I was pregnant, all around this same time, we had the conversation of he won't be given security, he's not going to be given a title and, also, concerns and conversations about how dark his skin might be when he's born," Meghan told Oprah.
"They were concerned that if he were too brown that that would be a problem?," Oprah later asked.
"if that's the assumption you're making…that would be a safe one,"in Meghan responded.
Prince Harry said that he felt that he was brought into a "cycle of genetic pain and suffering" by Prince Charles and Princess Diana in a brutally honest conversation about his childhood as a royal.
Speaking on the Armchair Expert podcast with Dax Shepard, the Duke of Sussex said, "I don't think we should be pointing the finger or blaming anybody, but certainly when it comes to parenting, if I've experienced some form of pain or suffering because of the pain or suffering that perhaps my father or my parents had suffered, I'm going to make sure I break that cycle so that I don't pass it on, basically.
"It's a lot of genetic pain and suffering that gets passed on.
"I started to piece it together and go 'okay, so this is where he went to school, this is what happened, I know this about his life, I also know that is connected to his parents so that means he's treated me the way he was treated, so how can I change that for my own kids?"