How Princess Charlotte is Prince George's 'wingman' at royal occasions as it echoes the dynamic of other key royals
A royal expert has explained the dynamics in Prince George and Princess Charlotte's relationship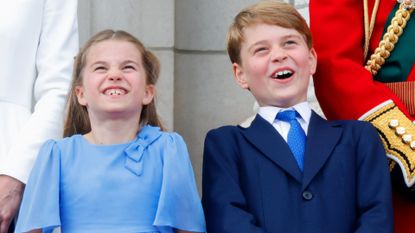 (Image credit: Getty)
Lately, we've seen Princess Charlotte calling out her older brother, Prince George for forgetting royal protocol and prompting him on how to act at royal engagements.
---
While discussing the topic of Prince George and Princess Charlotte, as was often said with Prince William and Prince Harry, royal expert Katie Nicholl said, "People think it's very disparaging to have this idea of the spare, and it is a historic concept. We've always had to have a spare to support the heir, but I think people should think about it perhaps in a more modern context."
During a particularly poignant scene at the Queen's funeral procession, Princess Charlotte was spotted whispering an instruction to Prince George as she reminded her older brother to 'take a bow' at the key moment.
Referencing these types of interactions, Katie added, "I think you're seeing a support act here. I think in the same way that Charles has always been very heavily supported by his sister Princess Anne, we're now seeing even from an early age in his life, Prince George is supported by Princess Charlotte."
Continuing to explain the sibling dynamic the young royals have developed, Katie said, "There's a wonderful dynamic there, and you know, they were together at the service of thanksgiving for Prince Philip, they've sort of stepped into some high-profile roles when it came to Prince George carrying out his first official engagement, which was to Cardiff over the Jubilee weekend."
"Will and Kate decided to include Charlotte on that, so in the same way that William always had his wingman in Harry, I think it's rather wonderful that that is being echoed here with George and Charlotte. You're going to see, I think, real teamwork at play here."
So where does Kate and William's youngest child, Prince Louis, come into this dynamic? Katie explained, "Louis' role is going to be interesting. I was told that the Wales' really looked to the Wessexes, Edward and Sophie, and how they're raising their children as something of a template because they are royal children and they have titles but they live remarkably ordinary lives."
Robyn is a celebrity and entertainment journalist and editor with over eight years experience in the industry. As well as contributing regular to woman&home, she also often writes for Woman, Woman's Own, Woman's Weekly and The Sun.