This sweet previously unseen photo from Harry and Meghan's engagement is on display at Kensington Palace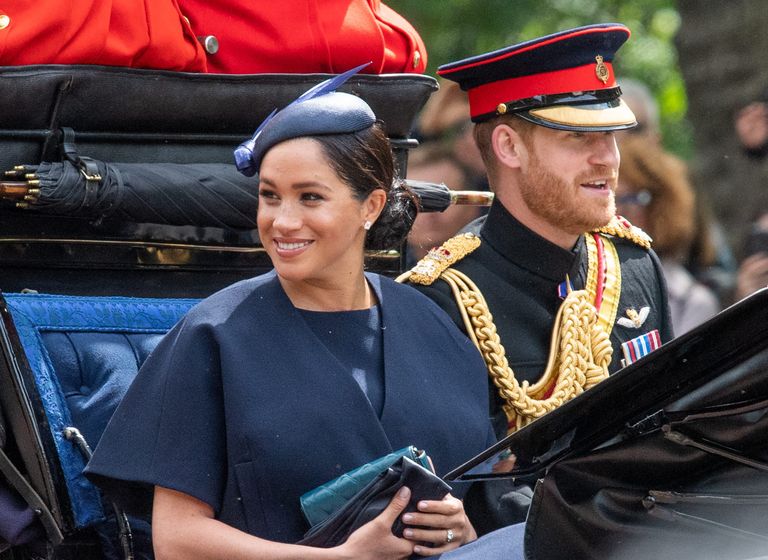 By Amy Hunt
As famous as the royal family are, it's easy to presume that we've seen every photo of them out there.
But in a recent photo of Prince Harry taking a meeting at Kensington Palace, eagle-eyed royal fans have spotted a never-before-seen picture of the Duke and Duchess of Sussex.
During a meeting on Tuesday morning with the Nepalese Prime Minister, KP Sharma Oli, the Duke of Sussex had a sweet picture of him and the Duchess on display, which many are presuming is from the time of their engagement, given that Meghan's left hand is seen prominently in the photo.
The adorable picture shows the couple hugging with huge smiles on their faces - while Meghan is wearing a stunning blue bodycon dress and Harry, one of his signature smart suits.
It looks like an image that was never released to the public following the couple's engagement back in November 2017.
Of course, Harry and Meghan did release some stunning pictures taken in the grounds of the Windsor estate at the time. But the one on show in Harry's meeting appears to be a much more informal, more relaxed image of the happy time in the couple's life.
The Duke of Sussex's meeting with KP Sharma Oli yesterday was taken on behalf of the Queen.
MORE:Meghan debuts new ring from Prince Harry at Trooping the Colour
Harry was the logical choice for the important get-together, with his official Instagram account explaining that he has had a long association with the people of Nepal, from a young age.
Sharing a picture of the meeting, a caption on the Sussex Royal account read, 'This is the first visit to the UK by a Nepali Prime Minister in 19 years.
'The Duke has previously met KP Sharma Oli, on his first official visit to Nepal in March 2016, a country he had always longed to visit.
'During the visit, HRH also met The Royal Gurkha Rifles at the British Gurkha Camp in Pokhara, whom are a unique unit of soldiers in the British Army recruited from Nepal. The Duke has a particularly close bond to The Gurkha's, having served with The 1st Battalion in Afghanistan in 2007/2008.'
MORE:Catherine and William paid this sweet tribute to Prince Harry with Prince Louis' outfit
Prince Harry has been busy since the birth of his baby son Archie, taking only a few days of paternity leave before returning to his royal duties. Last night, the Duke attended at concert at Hampton Court Palace, which was raising money on behalf of his charity, Sentebale.