Duchess of Cambridge reveals details of secret holiday with her three children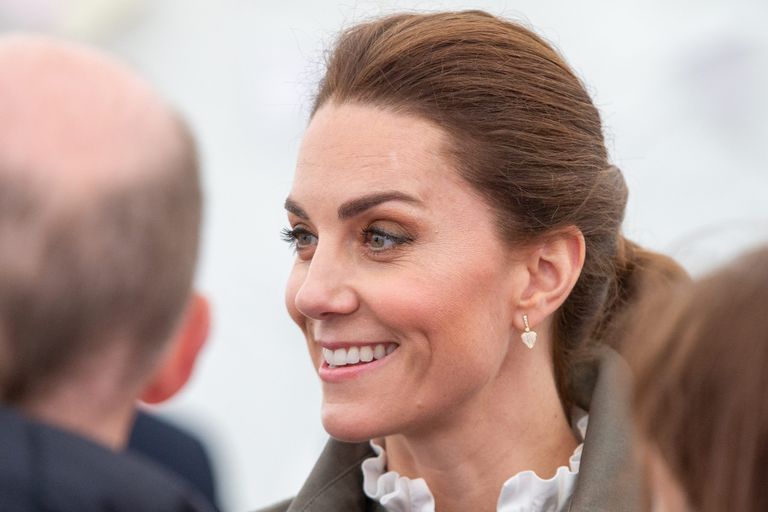 By Amy Hunt
During a visit to Keswick in Cumbria yesterday, the Duchess of Cambridge shared an insight into a secret holiday she and her family recently took.
Catherine, who visited the town in the Lake District with her husband Prince William, was chatting to some members of the public who had gathered to meet them about their break.
And reportedly, the Duchess revealed that she and William had recently taken Prince George, Princess Charlotte, and Prince Louis on a three-day visit to, coincidentally, the Lake District just last week, during the school half term holiday.
MORE:You can now visit Princess Diana's childhood home as it opens to the public this summer
One royal fan said that Catherine had shared her love for the area, explaining, "She said that it was raining a lot and was a long way from their home in Norfolk, but they love it here."
A schoolboy, Jack Mumberson, aged 11, also shared a snippet of his conversation with the Duchess. He said, "She said that her children love coming here and walking in the fells. She told us how nice the Lake District was and how lucky we were to live so close to the mountains."
It'll come as no surprise to royal fans that the Duke, Duchess and their children managed to sneak away on a secret holiday - the Cambridges have managed to keep their trips abroad and in the UK under wraps for years now, enabling them to enjoy some quality time together without the eyes of the world on them.
For example, last year, it's believed that the family of five headed off on a sun-soaked visit to the exclusive island of Mustique, in the Caribbean, but no pictures or details of their holiday emerged either during or after they returned back to the UK.
MORE:Catherine and William paid this sweet tribute to Prince Harry with Prince Louis' outfit
It also makes perfect sense that the Duke and Duchess chose the Lake District for their staycation. The couple are known to love spending time outdoors with their three children, with Catherine in particular having spoken regularly about her love of nature.
In fact, in a recent speech to launch her 'Back to Nature' garden for the Chelsea Flower show, she spoke about exactly that.
Catherine said, "I believe that spending time outdoors when we are young can play a role in laying the foundations for children to become happy, healthy adults."