Duchess Camilla praised for 'letting her guard down' at work as royal fans admit she's growing on them
Duchess Camilla impressed with her sweeter side when she headed out for her latest royal engagement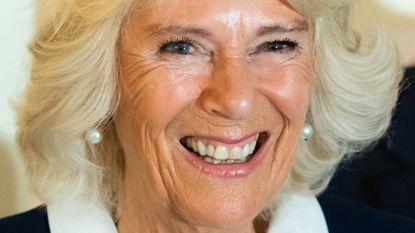 (Image credit: Photo by Samir Hussein/WireImage/Getty Images)
Duchess Camilla has been praised by royal fans for "letting her guard down" and showing her "kind and humble" side during a recent school visit as part of her royal work.
Camilla paid a visit to Wallacewell Primary School in Glasgow this week, chatting to the pupils about the impact of climate change in light of COP26.
A video of the Duchess interacting with the children and showing a more relaxed side to her nature sparked praise from royal fans.
---
Footage from Camilla's sweet day with the students shows her arriving at the school to greet a crowd of little ones waiting for her.
The future Queen consort, who lives at Clarence House in London with Prince Charles, can be heard chatting with the children as she met with them all, smiling and waving before being given a huge bouquet of flowers by a little boy.
Later on she met with older pupils and joked that she was "envious" about them not having to wear a mask as she sported hers, before being handed another bouquet.
"Oh, two lots of flowers! They're beautiful, thank you," Camilla said during the sweet exchange.
Highlighting the importance of looking after the planet, Camilla later told the children, "We're all relying on you to make it a safer world."
While chatting to a group of boys about what they were learning about global warming, she pointed out how "frightening" the changes to the planet are, before adding, "It's very important. It's going to affect all of you.
"You've got to make it right so that when you have children, you're going to make it okay."
Commenters flocked to praise Camilla's touching gestures and kind mannerisms during the royal engagement, with many applauding her for seeming relaxed and happy around the children.
"I am quite fond of the way Camilla approaches all people, even children, when she speaks so directly and responsively with them. She engages well in each encounter she has in her work," one wrote.
"She is a wonderful helpmate for Charles and is so capable and honest in her approach towards people she needs. She is a steadfast wife and support of the monarchy and Charles," another penned.
"I gradually began to respect Camilla but since then I have begun to admire her," a third agreed, admitting that Camilla has grown on them over time.
"This was sweet. Camilla tends to come across as stand-offish at times. Nice to see she can drop her guard a little and be entertaining with the children. The children seemed to take to her nicely and wanted to interact with her. The bouquet of flowers were lovely," another chipped in to say, pleased to see Camilla showing a softer side.