Rare childhood footage of Prince Charles at the Queen's coronation is so adorable
Prince Charles was just four when the Queen had her coronation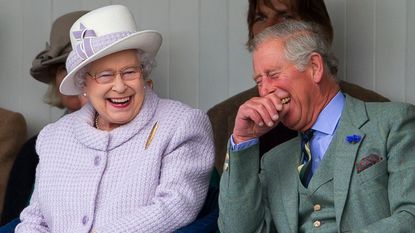 (Image credit: Photo by Indigo/Getty Images)
Old footage of Prince Charles shot at the Queen's coronation in 1953 has left royal fans cooing over how adorable he was.
---
This year marked 68 years since the milestone day that Her Majesty Queen Elizabeth II officially took the crown, ascending her father King George IV.
The huge ceremony took place at Westminster Abbey in London on 2nd June all of those years ago—the same place that the Queen's grandson Prince William married Kate Middleton.
Iconic royal figures, some no longer with us, were in attendance, including, of course, the Queen's husband Prince Philip, the Queen Mother, her sister Princess Margaret and Her Majesty's little ones.
At the time, the Queen's brood of four (Prince Charles, Princess Anne, Prince Andrew and Prince Edward) was only made up of her first born two.
Prince Charles and The Princess Royal were just four and three-years-old on the momentous day and a royal fan page has shared a lovely, decades old clip showing the little siblings on the day.
Toddler Princess Anne did not attend the lavish ceremony at the Abbey, but joined in for celebrations at Buckingham Palace afterwards and made an appearance on the royal residence's iconic balcony.
In the color footage, Charles and Anne can be seen wearing coordinating white outfits, while the newly-crowned Queen, Queen Mother and Prince Philip stand behind them proudly.
The royal tots cover their eyes before looking around to their father, grandmother and mother, who can be seen wearing the coveted Crown Jewels.
Alongside the post, shared on Instagram account @charlesprinceofwales (opens in new tab), a caption detailing some special facts about the little future King on the epic occasion reads, "Did you know that Prince Charles was the first royal child to witness his mother's coronation as monarch and the only child present in the guests at Westminster Abbey?
"He also received his own child-friendly invitation to the ceremony which was designed just for him."
It was also revealed last year that young Charles almost caused havoc at the coronation, having hoped to get his little mitts on the priceless crown.
Princess Margaret's lady-in-waiting, Lady Anne Glenconner, told the story on the My Life In Seven Charms podcast in October of 2020, saying, "[The Queen] took it off, put it on a table, and Prince Charles made a beeline for it.
"We thought he was going to drop it. We thought, 'Oh my goodness, that would be a bad omen'. But luckily, I think my mother, as a lady-in-waiting, seized it from him and took it away."