Nigella Lawson's new book - Cook, Eat, Repeat - is a beautifully written love letter to food
Twenty-two years after her first book, How To Eat, Nigella Lawson is launching her latest: Cook, Eat, Repeat.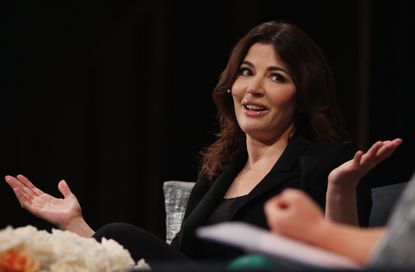 (Image credit: WireImage)
The chef and television host's upcoming book is not just recipes, but personal essays about food too. On Twitter, she wrote, "it focusses on the rhythms and rituals of the kitchen and intertwines recipes with narrative essays about food and stories from a cooking life." The book is an account of how central food is to her life and how is maps out her days.
Before her career as a chef and recipe writer, Nigella was a journalist. She was the deputy literary editor of The Sunday Times in 1986 at the age of 26. This background means she is a talent at writing and many fans became aware of this when she was recently given a column at the Sunday Times Style Magazine.
MORE:Kate Humble's new book is a lesson in moving on from a tragedy and finding our place in the world
Back in May, she wrote beautifully about the power of cooking. "The small, repeated act, say, of chopping an onion, standing over it as it cooks, stirring occasionally as it softens and then begins to caramelise, is not so challenging as to fray our nerves further, but still demands a gentle focus.
The feel of the onion under our knife, the gentle sizzling as it cooks — the sound changes subtly as the onion softens — and the smell that wafts up from the pan: all this can take us away from the otherwise unceasing rondeau of our worries. It cuts through our thoughts by requiring us to be there by the stove, in the present, mindful of what is happening in the pan."
If this doesn't get you excited for her book, then what will?
Cook, Eat, Repeat is an informative, intelligent, thought-provoking and amusing book. Surely the combination of her delicious recipes and delicious words is a dream come true?
It is said to have chapters including "A is for Anchovy (a celebration of the bacon of the sea), Beetroot and Me, A Vegan Feast, a shout out for Brown Food, a very relatable How To Invite People for Dinner Without Hating Them (or Yourself), plus new ideas for Christmas."
There are also recipes for all seasons and tastes: Burnt Onion and Aubergine Dip; Butternut with Chilli, Ginger and Beetroot Yoghurt Sauce; Brown Butter Colcannon; Spaghetti with Chard and Anchovies; Beef Cheeks with Port and Chestnuts; Oxtail Bourguignon; and Wide Noodles with Lamb in Aromatic Broth, to name a few. Those with a sweet tooth will delight in Rhubarb and Custard Trifle; Chocolate Peanut Butter Cake; Rice Pudding Cake; and Cherry and Almond Crumble.
Speaking to People magazine, Nigella said, "this is such a deeply personal book, drawing on the flavours and recipes that I return to again and again." Continuing, "given the time in which it was written [the pandemic], it really developed into a grateful reflection on how and what we eat can light up our days in dark times."
After 11 bestsellers and 15 television series, you couldn't think she could more. But, oh yes, she can. And she can do it brilliantly too.
MORE:The Baillie Gifford longlist is a roster of books all tackling very important topics and here are our favourites
Cook, Eat, Repeat by Nigella Lawson, Chatto & Windus, £26, out on October 29.
Rachel is a freelance contributor to woman&home, covering news as well as books, lifestyle and travel. Her byline has also appeared in The Independent, The Financial Times, ELLE Magazine, VICE, Glamour Magazine and others. She loves nothing more than talking with people to share their stories. When she is not writing you will definitely find her nose in a book or magazine, or perhaps training for the next half marathon, practicing yoga or eating in London's best restaurants.