The Baillie Gifford longlist is a roster of books all tackling very important topics and here are our favourites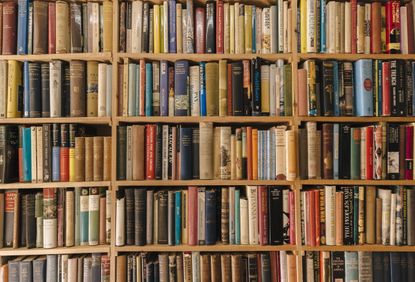 (Image credit: Getty Images)
The Baillie Gifford prize is the most prestigious and hotly anticipated British non-fiction literary prize and this year's longlist celebrates everything from doctors to The Beatles and rape survivors.
While fiction books are ultimate escapism, reading a nonfiction tome can often feel more rewarding thanks to the educational topics covered. Whether you wish to learn about your favourite artist's life, the ins and outs of a glitzy industry, understand what it is like to live with a chronic health condition or garner knowledge about a piece of history, there is something for everyone. The Baillie Gifford judges have chosen 13 thought-provoking books, but here are our five favourites from female authors that we think you should dip into.
In Labours of Love: The Crisis of Care by Madeleine Bunting
With healthcare now at the centre of our lives and at the forefront of most conversations, Madeleine Bunting's book couldn't have come at a more important time. Born out of five years travelling the country and conversing with charity workers, doctors, social workers, in-home carers, nurses, palliative care teams and parents, to explore the value of care. As a former Guardian journalist, Madeleine used her reporting skills along with history and her own experiences to give a portrait of our country which "seems to prioritise profit and productivity over compassion." This political issue is one which can no longer be ignored after weeks of clapping and cheering outside our front doors for caregivers, many of whom are underpaid and disregarded. This luminous and compelling collection of stories should be required reading for all politicians.
VIEW NOW: In Labours of Love: The Crisis of Care by Madeleine Bunting (Granta Books) – £16.99
Those Who Forget: One Family's Story; A Memoir, a History, a Warning by Géraldine Schwarz
Daughter of a French mother and German father, Géraldine Schwarz always knew her family may have had some involvement in World War II, but it was never discussed so she left it at that. But upon discovering documents in her grandparent's apartment showing that her grandfather had profited from the forced 'Aryanisation' of Jewish businesses, she was driven to investigate how her family were complicit in the war. In this historical memoir, Géraldine delves into the role of the 'Mitlaüfer' — the people who were not charged with Nazi crimes but who had accepted what they did — and discovers this is why her grandparents chose to bury their role. She also uncovers her French grandfather's collaboration under the Vichy regime. How can we learn from history she asks? By avoiding the past we are vulnerable to extremism. This is a painful and important investigation into the collective amnesia in Europe of the twentieth century, Géraldine's dogged determination to not shy away from the truth results in one important piece of writing.
VIEW NOW: Those Who Forget: One Family's Story; A Memoir, a History, a Warning by Géraldine Schwarz (Pushkin Press) – £17.99
Square Haunting: Five Women, Freedom and London Between the Wars by Francesca Wade
London's Mecklenburgh Square, against the backdrop of war, was home to five impressive female writers:the poet Hilda Doolittle, the classicist Jane Ellen Harrison, the economic historian Eileen Power and the novelist Virginia Woolf. Francesca Wade's incredibly immersive book explores the lives of these five women. With immense detail down to the decor of where they lived and what outfits they wore, the vivid prose puts you at the heart of their lives and takes you right there. The zone one neighbourhood now has properties going for millions of pounds, but during this era, it was reserved for the working class, where artists and radical working women, who did not marry, slept. Francesca tells the stories of these individual women and marvels and the fact that none of them knew one another. Francesca weaves social history and literary criticism with insights into their creative and inner lives, both of which were relatively revolutionary for the era.
VIEW NOW:Square Haunting: Five Women, Freedom and London Between the Wars by Francesca Wade (Faber & Faber) – £17.99
Our Bodies, Their Battlefield: What War Does to Women by Christina Lamb
Esteemed Sunday Times foreign correspondent Christina Lamb has reported fromSouth Africa, Pakistan, Brazil, Afghanistan and many other conflict-riven countries. One thing she continually noticed was the scale of rape and sexual violence in modern conflict across the globe. In this book, Christina gives a voice to survivors and speaks how rape has the power to write women out of history, systematically oppress and humiliate. While this is not an enjoyable read, it should be required reading. Christina has an innate ability to understand her interviewees with a level of compassion like no other, we hear from Yazidi women, Rohingya refugees, ex-Yugoslavian women, girls who were kidnapped by Boko Haram, Bangladeshi, Iraqi and many more women. But it is not all horror, she also shines a light on the courage of women and girls and calls for societal change. This is a searing must-read for anyone wanting to understand modern conflict and the power of journalism.
VIEW NOW:Our Bodies, Their Battlefield: What War Does to Women by Christina Lamb (HarperCollins) – £17.99
Dear Life: A Doctor's Story of Love and Loss by Rachel Clarke
The daughter of a physician, Rachel Clarke didn't initially want to do medicine herself and ended up joining the profession after a career in journalism. This book is part biography and also part mediation on the role of death, dying and medicine. Rachel began writing this book in the wake of her father's recent death from cancer, she details the pivotal experience of caring for him and the impact of his death on her family very vividly. She was constantly reminded of the importance of palliative care during this difficult time: making memories and ensuring quality of life over counting days and intense oncology treatment. Nothing can mollify death and it is a very difficult subject to write on but Rachel demystifies it, tries to bring comfort to those dying and writes with beautiful, poetic, and captivating prose. It is, in parts, a love letter to humanity and love, as well as a reminder to live life the fullest — there is even advice on how to prepare for your future. "I work in a world that thrums with life. My patients teach me all I need to know about living."
VIEW NOW:Dear Life: A Doctor's Story of Love and Loss by Rachel Clarke (Little, Brown) – £8.49
Happy reading!
Sign up to our free daily email for the latest royal and entertainment news, interesting opinion, expert advice on styling and beauty trends, and no-nonsense guides to the health and wellness questions you want answered.
Rachel is a freelance contributor to woman&home, covering news as well as books, lifestyle and travel. Her byline has also appeared in The Independent, The Financial Times, ELLE Magazine, VICE, Glamour Magazine and others. She loves nothing more than talking with people to share their stories. When she is not writing you will definitely find her nose in a book or magazine, or perhaps training for the next half marathon, practicing yoga or eating in London's best restaurants.