The Luther Netflix movie trailer with Idris Elba will leave you shaking in your boots
The much-anticipated trailer for the Luther Netflix movie with Idris Elba is out and fans can't wait to see how the BBC series continues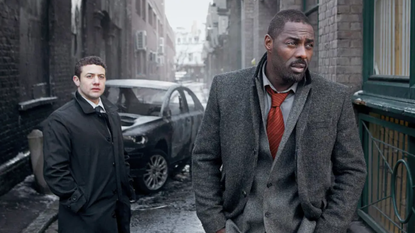 (Image credit: BBC)
It's official: Idris Elba is coming back as detective chief inspector John Luther in the new Netflix film continuation of the beloved BBC series Luther.
Idris, who famously DJ-ed Meghan and Harry's wedding, was the star of the show when it ran for five seasons between 2010 and 2019 on the BBC. He even earned two Golden Globe wins and four Emmy nominations for his role - so it's no surprise that Netflix decided to continue the storyline with a movie.
The streaming platform just released the first trailer for Luther: The Fallen Sun, which is scheduled to drop in theaters this month and then premiere on Netflix on March 10.
The two-minute-long clip kicks off with Idris' Luther fighting with fellow prisoners, eventually breaking out of jail and meeting a woman who asks for his help to get revenge on somebody that mistreated her son.
"I need to stop this man, I'm still a copper," the protagonist is then heard saying.
Of course, the trailer is filled with heart-stopping action: scenes of a bloody Luther fighting an enemy on the London subway will haunt you at night, as will others during which armed forces try to control him.
The video ends with a close-up of Luther saying, "Let the nightmare come, because I'm ready." And, just like that, we absolutely can't wait to see the film in its entirety.
"I really wanted to amplify what we've done with the television show," Idris, who once gave a cryptic response to Luther's diversity drama, said to Netflix's official blog channel Tudum (opens in new tab). "He's done so much to bend the law in order to catch the bad guys that he's ended up in jail. That's where we start the story. This old case that didn't really ever get solved creeps up back into his life. And John can't help but find a way to get involved. This bad guy is out there and he has to go out and get him."
Jamie Payne, the director of the series' fifth season and the man behind the current film effort, also chimed in on what to expect.
"Luther's an unstoppable force," he said to Tudum. "But, up to this point, he's had to tread around the law of the police, because that was his job. Now, he's a fugitive. This is Luther untethered. This man is so forward in his thinking and is in action. He's like a wrecking ball, but the smartest wrecking ball you've ever met in your life."
WHAT IS LUTHER: THE FALLEN SUN ABOUT?
According to an official synopsis, Luther: The Fallen Sun will focus on "a gruesome serial killer [that] is terrorizing London while the brilliant but disgraced detective John Luther sits behind bars. Haunted by his failure to capture the cyber psychopath who now taunts him, Luther decides to break out of prison to finish the job by any means necessary."
Directed by Jamie and written by Neil Cross, the production also stars Cynthia Erivo and Andy Serkis. Dermot Crowley, who plays Martin Schenk in the original run of the service, will also be reprising his role in the feature film.
Anna Rahmanan is a New York-based writer and editor who covers culture, entertainment, food, fashion and travel news. Anna's words have appeared on Time Out New York, the Huffington Post, Fortune, Forbes, Us Weekly, Bon Appetit and Brooklyn Magazine, among other outlets.