You're going to get emotional over this iconic Spice Girls reunion in celebration of Geri's 50th birthday
Mel B was the only one missing from this iconic Spice Girls reunion at Ginger Spice's birthday celebration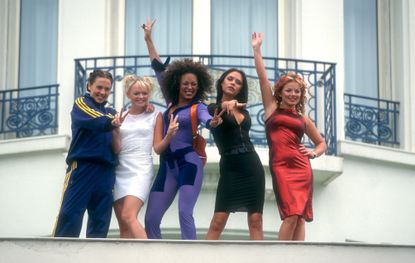 (Image credit: (Photo by Ron Davis/Getty Images))
Although talks about a Spice Girls reunion tour seem to have led nowhere until now, most of the iconic band members gave fans a taste of a regrouping while celebrating Ginger Spice's 50th birthday this past weekend.
Just a few months after Victoria Beckham returned to Spice Girls roots with rendition of Stop, her husband, soccer superstar David Beckham, posted a video on his Instagram account featuring Posh Spice singing to the band's 1996 hit song Say You'll Be There right alongside Melanie Chisholm (Sporty Spice), Emma Bunton (Baby Spice) and Geri Halliwell (Ginger Spice), whose birthday the girls were actually celebrating.
"Special celebrating Ginger 🇬🇧 this weekend and even more special to capture this moment of the girls," David wrote as a caption to his now-viral video, which notably did not include Melanie Brown, Scary Spice. "❤️ A friendship for Life ❤️ @spicegirls @therealgerihalliwell @victoriabeckham @emmaleebunton @melaniecmusic @officialmelb you were missed ❤️"
According to Bustle (opens in new tab), Mel B was not able to attend the party because celebrating her recent engagement to boyfriend of three years Rory McPhee.
"Melanie attended her family's annual bonfire night event which was also to celebrate her engagement to Rory, but she had a long chat with Geri before the party," reads the official statement that was shared with Bustle.
Fans have obviously watched David's clip on repeat, where the four ladies are seen in top-notch form, singing to their own track while having loads of fun dancing with each other.
Just two days ago, Victoria herself shared some photos from the party. In the first one, the fashion guru is seen posing alongside Emma and Melanie. In the second one, Posh Spice is hugging Baby Spice while sitting at a table together.
And yet, despite Victoria's clear affection towards her former band members, fans are still upset over her absence from Spice World in 2019. In a recent interview about her new book, Who I Am, Mel C revealed the real reason Victoria didn't return for Spice Girls' reunion tour (and, likely, why she has yet to agree to one).
"On a more personal level, and I think this has been said, I don't think she'd mind me saying...When we did the Olympics in 2012, she had a really hard time," Mel C said to Steven Bartlett while on The Diary of a CEO podcast. "She was petrified. She had a lot of anxiety about that performance."
In her comments, the singer was referring to the London stage at the 2012 Summer Olympics, when the girlband sang a medley of their hit songs to the delight of fans all over the world.
"She was like, 'You know what girls, I'm putting my dancing shoes up,'" Mel C explained. "We respected her decision. We were still sad about it. But we went on to have the most successful tour we've ever done, sadly without her."
Alas, there is still hope as Victoria is back with the Spice Girls on an exciting new project that reportedly involves a brand new docu-series about the iconic band.
"The director and the whole concept of how that was shot and filmed is really, really, really good, " Mel B said in a recent interview, also revealing that the team behind Michael Jordan's series The Last Dance has signed on to work on the Spice Girls project as well. "So we'll be doing our own version with them."
We'll obviously be watching just about anything involving the Spice Girls - all the while still ardently hoping for a world-wide reunion tour.
Anna Rahmanan is a New York-based writer and editor who covers culture, entertainment, food, fashion and travel news. Anna's words have appeared on Time Out New York, the Huffington Post, Fortune, Forbes, Us Weekly, Bon Appetit and Brooklyn Magazine, among other outlets.