You'll never guess which artist Madonna dreams of collaborating with
Iconic superstar Madonna opens up about the (surprising!) artist that she worships the most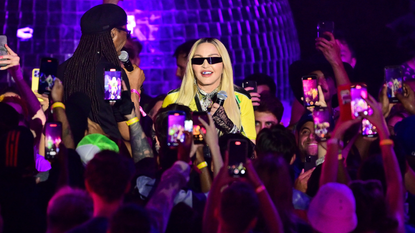 (Image credit: James Devaney / Contributor)
Fresh off a collaboration with Beyonce, Madonna stopped by The Tonight Show Starring Jimmy Fallon to promote her new album and discuss what other artists she dreams of collaborating with.
Madonna, whose new hair sent fans into overdrive, just released Finally Enough Love: 50 Number Ones, a remix of the 50 songs that made it to number one on the Billboard Dance Club Songs chart throughout her historically long career.
The new drop features a ton of collaborations, including ones with Nile Rogers, Britney Spears, Nicki Minaj, Justin Timberlake, LMFAO and Maluma. One question naturally follows, then: who else does the queen of music hope to one day play music with?
"I mean, there's one artist that I worship more than anything and I would love to collaborate with him [and] that's Kendrick Lamar," the 63-year-old legend said to Jimmy. "His new record is history making. Mind bogglingly brilliant. It's insane."
We don't disagree there. After all, Kendrick has won a whopping 14 Grammy awards since first landing on the scene.
While on the late-night show, Madonna also opened up about her long, illustrious career, recalling episodes that fans may not even remember these days. For example: the time her producer Nile disagreed with releasing Like a Virgin as a single over Material Girl.
"Those were the days when I had no say in anything. Can you imagine those days even existing," she said to Jimmy, specifically recalling a legendary 1984 performance during which she wore a wedding dress. "It wasn't the song itself, it was my performance on the first MTV Awards. I got the bottom and I started dancing around and my white stiletto pumps fell off."
As she remembered on the show, Madonna tried to save herself from the incident by diving for the shoes and pretending it was all part of her plan to begin with. But, just as she dove, her dress flipped and revealed a bit too much.
"My butt was showing. Can you imagine? Those were the days when you shouldn't show your butt to have a career," Madonna said to a smiling Jimmy. "Now it's the opposite."
Boy, how times have changed indeed.
Leave it up to Madonna to have us laughing our hearts out about an episode that happened decades ago.
Anna Rahmanan is a New York-based writer and editor who covers culture, entertainment, food, fashion and travel news. Anna's words have appeared on Time Out New York, the Huffington Post, Fortune, Forbes, Us Weekly, Bon Appetit and Brooklyn Magazine, among other outlets.