Yellowstone's Kevin Costner posts a throwback photo - and fans can't get over how dreamy he looks
Seriously, we can't stop looking...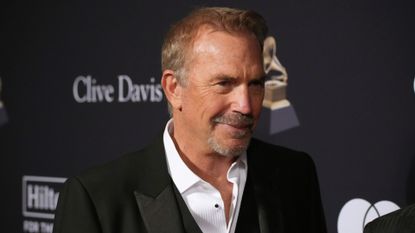 (Image credit: Getty Images)
Kevin Costner has been in headlines recently for questions about the future of his role in Yellowstone, but all eyes were on him after he posted a throwback picture that left fans swooning.
Kevin Costner, who plays John Dutton on the Paramount+ hit show Yellowstone, has been in the TV and movie industry for a long time. He has fans that span generations, thanks to his long and successful career - and fans were left speechless after he posted a throwback photo of him from a few decades ago.
He posted the old photo, which is a black and white headshot of him, to his Instagram, captioning the photo with some life advice. "I think often about what I'd go back and say to this guy. Mostly, I'd want to tell him to get ready for one hell of a ride," he says in the caption.
He then implored his fans to include their own advice in the comments on his post. "What would you tell your younger self if given the chance?" he asked in the caption.
Fans promptly responded with a cacophony of responses, mostly commenting on how handsome the Yellowstone actor looked.
"Good Lord, you expect people to think after posting this?!?" one person commented.
"Go up and say "hi" to Kevin Costner when he played ball at CSUF! 😂" another chimed in.
"I'd tell her that her crush Kevin Costner is still hot in his maturing years😍" another coyly said.
Others took this opportunity to weigh in on the recent rumor that John Dutton could be departing from the show, or that Yellowstone could even be promptly ending, despite the show's success.
"To stay on Yellowstone," someone else commented, regarding Kevin's advice query.
"Film the rest of season 5," another said.
These fans are, of course, referring to the ongoing alleged feud between Kevin and the director of Yellowstone, Taylor Sheridan.
An insider source from the show revealed to the press that Taylor had developed a "God complex" while directing the show, leaving Kevin frustrated when the show began going in a direction he didn't like.
This friction between Kevin and Taylor is what prompted Kevin to share that he was cutting down his workload for the second half of season five, which was still in production as of early 2023. "It's the same as with any showrunner and big star — there's respect, but there's friction," a source from inside the Yellowstone set said.
Because of all of this, it is speculated that Yellowstone will be ending with season 5, according to sources from the Post - and it also remains unclear whether the second half of season 5 will ever see airtime, seeing as it hasn't even finished production.
If the second half of Yellowstone does (Lord willing) ever hit our screens, it's also unclear whether we'll see Kevin as John Dutton appear for the final go-around.
So, in the meantime, we're just going to keep looking at this dreamy pic of Kevin and hope for the best.
Madeline Merinuk is woman&home's US lifestyle news writer. She covers celebrity, entertainment, fashion, and beauty news but is also obsessed with internet trends - you can find her reciting trending TikTok sounds out loud at any given time.
After winning multiple student journalism awards for her investigative work, she graduated from Hofstra University in 2021 with a B.A. in Journalism. After graduating, she worked at today.com, the digital site for the Today Show, where she wrote pop culture news and interviewed big-name personalities like Emily Ratajkowski, Haley Lu Richardson, Emma Corrin, and more.
Her personal interests, in no particular order, are: cheese, Joni Mitchell, reading, hot yoga, traveling, having multiple chapsticks in every handbag at all times, and dancing to ABBA songs as if she were in the Mamma Mia movies.