Will Smith banned from the Oscars for 10 years after slapping Chris Rock—celebrities have a mixed reaction to the news
Will Smith is banned from the Oscars and any other events hosted by the Academy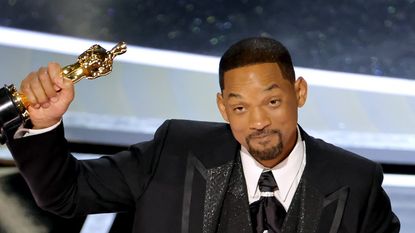 (Image credit: Neilson Barnard/Getty Images)
An open letter released by the Academy has confirmed that Will Smith will indeed face quite a hefty punishment for his actions at the 94th Academy Awards.
Making headlines across the globe, Will physically slapped comedian Chris Rock after Chris poked fun at Will's wife, actress Jada Pinkett Smith.
After slapping Chris, Will was seen in the audience yelling for Chris to "keep [his] wife's name out of your f***ing mouth." The slap sent shockwaves around the showbiz world, and many celebrities have come out with strong opinions on both sides of the argument.
However, just shy of two weeks after the slap was heard around the world, the Academy has officially responded.
Academy president David Rubin wrote in an open letter, "The 94th Oscars were meant to be a celebration of the many individuals in our community who did incredible work this past year; however, those moments were overshadowed by the unacceptable and harmful behavior we saw Mr Smith exhibit on stage."
"The Board has decided, for a period of 10 years from April 8, 2022, Mr Smith shall not be permitted to attend any Academy events or programs, in person or virtually, including but not limited to the Academy Awards… We want to express our deep gratitude to Mr Rock for maintaining his composure under extraordinary circumstances."
While Will has since repeatedly apologized, the Academy of Motion Picture Arts and Sciences continued in their statement that the ban was "a step toward a larger goal of protecting the safety of our performers and guests, and restoring trust in the academy."
Ricky Gervais, a critic of Will's actions and strong defender in the freedom comics should have, posted a tongue-in-cheek retort to the news.
Resharing the news of Will's punishment on Twitter, he wrote, "Hopefully, he'll only do 6 years with good behaviour."
He had previously Tweeted about the incident "You don't hit someone over a joke, however bad it is – and it wasn't bad! That was like the tamest joke I would've ever told."
Hopefully, he'll only do 6 years with good behaviour. https://t.co/26Et5zsLWAApril 8, 2022
See more
Seemingly taking Will's side in the fracas, Piers Morgan pointed out some implied hypocrisy over the punishment. He took to Twitter to write, "Will Smith banned by the Hollywood Academy, 12 days after he slapped Chris Rock. It took the same Academy 40 years to ban Roman Polanski after he was convicted of raping a child."
50 Cent also took Will's side, tweeting "Got Damn they doing Will dirty, This is too harsh so he cant come back till he 63 years old. and the law suit ain't even hit yet. SMH."
Jack Slater is not the Last Action Hero, but that's what comes up first when you Google him. Preferring a much more sedentary life, Jack gets his thrills by covering news, entertainment, celebrity, film and culture for woman&home, and other digital publications.
Having written for various print and online publications—ranging from national syndicates to niche magazines—Jack has written about nearly everything there is to write about, covering LGBTQ+ news, celebrity features, TV and film scoops, reviewing the latest theatre shows lighting up London's West End and the most pressing of SEO based stories.