Who's the real Queen of Christmas? Even supreme diva Mariah Carey bows before this person
Mariah Carey might dominate the airwaves each Christmas, but she's willing to abdicate the throne for Dolly Parton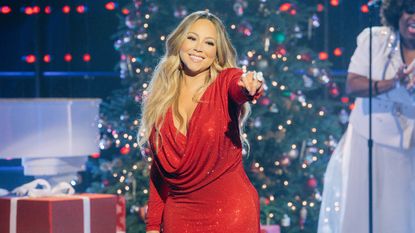 (Image credit: Terence Patrick/CBS via Getty Images)
"Dolly, let's settle this one…"
So began a tweet by Mariah Carey earlier this week, addressed to none other than country music and charity icon Dolly Parton.
The tweet was aimed at Dolly after the pair were caught up in a discourse around who the true "Queen of Christmas" was.
While Mariah's opening sentence might sound like fighting words, she was actually more than happy to step aside and let Dolly take the crown.
The vocal powerhouse's tweet in full read, "Dolly, let's settle this one… You are the Queen of Everything! The Queen of the World, The Queen of Christmas, The Queen of Mine!! Love you!!"
Despite what her enduring Christmas hit might say, it might seem that all Mariah really wants for Christmas is tickets to Dollywood.
Dolly, let's settle this one…You are the Queen of Everything! The Queen of the World, The Queen of Christmas, The Queen of Mine!! Love you!!!! ❤️❤️❤️ @DollyParton https://t.co/3CFSCDMk0jNovember 10, 2022
See more
The question of is Mariah Carey the Queen of Christmas has come up before – with less wholesome results.
Back in March of 2021, Mariah Carey's lawyers filed a petition for the artist to be able to trademark the title 'Queen of Christmas.' The effort was made public this July and it turns out that other artists are opposing Mariah's bid.
Mariah filed the application with the United States Patent and Trademark Office hoping to be able to eventually sell merchandise with the superlative written on it, including perfumes, makeup, nail polish, hair care, lotions, and sunglasses.
While many would see the title as a foregone conclusion, considering Mariah's Christmas song and album is one of the best-selling of all time, some took umbrage.
Christmas songwriter Elizabeth Chan opposed the plans to crown Mariah as festive Queen – even enlisting the help of lawyers at WilmerHale law firm to fight the action in court.
Another singer, Grammy winner Darlene Love, took to social media to discuss the matter.
"David Letterman officially declared me the Queen of Christmas 29 years ago, a year before [Carey] released 'All I want For Christmas Is You' and at 81 years of age I'm NOT changing anything," Darlene wrote on Facebook. "I've been in the business for 52 years, have earned it and can still hit those notes! If Mariah has a problem call David or my lawyer!!"
Luckily, Mariah has taken the debate with Dolly in her stride.
As for Ms Parton herself, she was equally humble. When she was asked if she was the true Queen of Christmas instead of Mariah, Dolly replied "Now, don't you say that! I'm not going to compete with Mariah… I love her. You think of Christmas, you think of Mariah Carey."
"I'm happy to be second in line to her."
The reason some are claiming Dolly has a claim to the throne includes her recent sleigh-full of holiday projects.
Dolly has just re-released her Christmas album, A Holly Dolly Christmas with four additional new songs, including a duet with goddaughter Miley Cyrus.
The album also includes a cover of Mariah's classic All I Want for Christmas Is You.
She also has a new holiday movie coming out later this year, Dolly Parton's Mountain Magic Christmas, which stars Miley's dad, Billy Ray Cyrus.
In 2020, Dolly also released a Netflix holiday movie titled Christmas in the Square, featuring Christine Baranski, and Dolly herself appeared as an angel.
Perfect casting, given how charitable the country queen is!
Regardless of who ends up the Queen of Christmas, Mariah and Dolly are two queens who recognize each other's power.
Jack Slater is not the Last Action Hero, but that's what comes up first when you Google him. Preferring a much more sedentary life, Jack gets his thrills by covering news, entertainment, celebrity, film and culture for woman&home, and other digital publications.
Having written for various print and online publications—ranging from national syndicates to niche magazines—Jack has written about nearly everything there is to write about, covering LGBTQ+ news, celebrity features, TV and film scoops, reviewing the latest theatre shows lighting up London's West End and the most pressing of SEO based stories.