Who is Clodagh McKenna married to? All you need to know about This Morning's Irish chef's royal aristocrat husband
Yep, Clodagh McKenna is married to The Queen's godson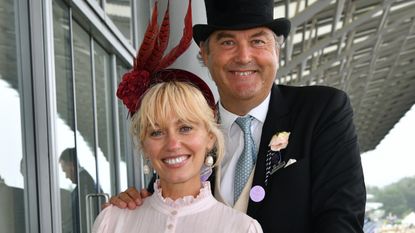 (Image credit: Photo by Kirstin Sinclair/Getty Images for Royal Ascot)
Any regular This Morning viewer will be familiar with Clodagh McKenna.
The Irish chef regularly appears alongside Holly Willoughby and Phillip Schofield to showcase her foodie talents or chats live from her Hampshire garden to give fans a glimpse of her greenery.
In recent months Clodagh, 46, has been heard chatting to Holly and Phil about her wedding day, having married her new husband Harry Herbert back in August.
But Clodagh's new man isn't just anyone. Harry Herbet has big royal connections and is actually the Queen's godson.
Harry and Clodagh had a fairytale wedding truly fit for a royal socialite, tying the knot at Downton Abbey's Highclere Castle.
Who is Clodagh McKenna married to?
Clodagh McKenna is married to aristocrat and friend of the royal family, The Honourable Harry Herbert.
Harry is a British horse racing pro and Chairman of Highclere Thoroughbred Racing.
Harry also has royal links and is the Queen's godson, as his father, Lord Pochester the 7th Earl of Carnarvon, was Her Majesty's horse racing manager.
Lord Porchester, fondly nicknamed 'Porchey' by the Queen, was portrayed in the first season of The Crown, depicted as the Queen's closest male confidant and racing chum who sparked a flicker of jealousy in Prince Philip. However this is a part of the series that might leave you wondering how accurate The Crown really is, as it's unconfirmed if Philip really was envious of their friendship.
The businessman, racing expert and millionaire was educated at Eton College and is also the grandson of The Earl Carnarvon who discovered the tomb of Tutankhamun in Egypt in 1922.
Food expert and recipe book author Clodagh first met Harry back in 2017 when they both attended a lunch at London's Fortnum and Mason.
In August of 2021 they married in a gorgeous ceremony at Highclere Castle after Harry popped the question back in October of the previous year.
The couple shared stunning snapshots of the big day on their Instagram accounts, with both Clodagh and Harry paying tribute to one another with touching captions.
"Married my darling @clodagh_mckenna ❤️Happiest day imaginable!!❤️🎈🎉🎈🎉#loveofmylife❤️," Harry penned beside a beautiful photograph of him and Clodagh standing together in their wedding finery, surrounded by their loved ones and their pet pooches.
"On the 14th August I married the love of my life ♥️ which made it the happiest day of my life ♥️," Clodagh wrote beside another sweet image of her and Harry riding in a pony-drawn carriage after saying their vows.
The newlyweds then jetted off to Ibiza for their honeymoon, with Harry posting sneak peeks of their romantic getaway for his followers.
"My beautiful wife @clodagh_mckenna 😍with sundowner cocktail in hand," he penned beside a photo of glowing Clodagh on the beach.
Where does Clodagh McKenna live?
Clodagh McKenna and husband Harry Herbert live in Broadspear House, a cozy cottage on the huge grounds of the Highclere Castle estate, sitting upon 60 acres of land that the couple use to live the ultimate countryside lifestyle.
Any fans of Downton Abbey will be familiar with Clodagh and Harrys' home and wedding venue, as Harry was born at Highclere Castle where the period drama is filmed.
If you fancy a taster of what it's like to be Clodagh's neighbor, you can now stay at the iconic Downton Abbey location at Falstaff Cottage by booking it on Airbnb (opens in new tab).
The couple even got married in Downton's iconic settings, tying the knot in Highclere Castle itself.
When she's not in the This Morning studio for her morning TV segments, she leads cooking and gardening how-tos from her sprawling outdoor space surrounding her and Harry's cottage, chatting away about what she's grown in her flowerbeds and vegetable patches and showing the world her pet hens.
Sharing details of her gorgeous abode during This Morning's Clodagh's Kitchen Garden segment last year, she told viewers, "I live here with my wonderful fiancé Harry Herbert who was left this property by his father Lord Porchester, the 7th Earl of Carnarvon.
"Harry and I share our home with our two adorable doggies. The dogs fill my heart with joy and love but are also great for keeping me fit. We have 60 acres for them to run around and explore."
Does Clodagh McKenna have children?
Clodagh McKenna does not have children but her husband Harry Herbert has three children, who are all in their early twenties, born from a previous marriage.
Harry is father to daughters Chloe and Frankie and son William but split from their mother, Francesca, back in 2017.
While she does not have children, Clodagh is the proud owner of two dogs called Alfie and Nolly—and she puts a large part of her happiness and wellbeing down to being a dog owner.
Writing on her website, Clodagh explains, "I am a BIG Dog lover, and when I say big I mean massive, huge, enormous fan of dogs."
Adding that her four-legged friends are "central" to her life and happiness, she praised her pups for keeping her heart healthy and lessening anxiety in her life, all while keeping her from ever being lonely.