A new Armie Hammer docuseries promises to reveal the actor's 'dark, twisted secrets' - when is the release date?
The much-anticipated Armie Hammer documentary House of Hammer is set to debut on Discovery+ on September 2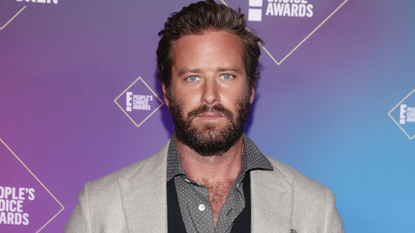 (Image credit: Todd Williamson/E! Entertainment / Contributor)
"My name is Casey Hammer and I'm about to reveal the dark, twisted secrets of the Hammer family," says actor Armie Hammer's aunt in the trailer for House of Hammer, the new Discovery+ docuseries exploring the accusations of sexual assault and cannibalism leveled against the 35-year-old actor last year.
Fair warning: the just-released trailer for House of Hammer, which will be a three-part documentary, is just as disturbing as the allegations made by a number of women throughout the past months.
House of Hammer trailer
In the nearly 4-minute long clip, watchers are put face-to-face with some of the women who have come forward about their relationship with Armie, the star of award-winning movies the likes of Call Me By Your Name and The Social Network.
Among the women who appear on camera are Courtney Vucekovich, who told the public that Armie had been sexually abusive and expressed a predilection for cannibalism, and Julia Morrison, who made similar claims last year.
If the preview clip is of any indication, folks can expect shocking text messages, voice notes and letters to be analyzed throughout the production.
"I have a fantasy about having someone prove their love and devotion and tying them up in a public place at night and making their body free use and seeing if they will f*** strangers for me," reads a text message by the actor to Julia, who is seen taking out her phone on camera.
The trailer also features a voice note sent by Armie to one of the women. "My bet was going to involve showing up at your place and completely tying you up and incapacitating you and being able to do whatever I want to every single hole in your body until I was done with you," a voice that sounds just like the actor's says.
Another shocking revelation involves a text that Courtney claims Armie once sent to her. "I am 100% a cannibal," reads the alleged message. "I want to eat you."
Although we'll have to watch all three parts of the docuseries to better understand the still-evolving situation, the House of Hammer trailer suggests that Armie's behavior followed a pattern of sorts.
In fact, both featured women reveal that their respective relationships with the actor started off great. "But then things changed," says Julia in the trailer. "He pushes your boundaries a little bit at a time. You're his."
What makes the shocking tale even more enigmatic is Armie's family history, which his own aunt, Casey, is brought on to the show to discuss in detail.
"On the outside, we were a perfect family," Casey says in the clip. "But magnify Succession a million times, and it was my family. If you believe about making deals with the devil, the Hammers are at the top of the totem pole."
The disgraced actor's aunt is probably referring to the many family secrets that are slowly coming to the surface, involving stories of addiction, scandal, illegalities and more.
How to watch House of Hammer
House of Hammer is a three-part documentary series set to debut on the streaming platform Discovery+ on September 2.
Those interested can sign up for a free trial for the service or opt for a $4.99 per month subscription plan.
Anna Rahmanan is a New York-based writer and editor who covers culture, entertainment, food, fashion and travel news. Anna's words have appeared on Time Out New York, the Huffington Post, Fortune, Forbes, Us Weekly, Bon Appetit and Brooklyn Magazine, among other outlets.