What to expect from Annika season 2 and the huge questions we need answers to when the Nicola Walker drama returns
Annika season 2 will hopefully answer this burning questions when the Marine Homicide Unit returns for more dangerous cases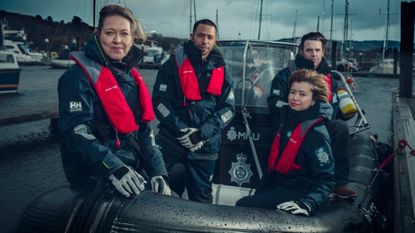 (Image credit: BBC/UKTV/Graeme Hunter)
Annika season 2 is on the way and after the intense first season there are plenty of plot-threads we can expect and hope to be resolved when it lands.
Set in Scotland and following the Marine Homicide Unit's investigation of increasingly disturbing water-based murder cases, Annika made a big splash when it debuted on UKTV's Alibi in 2021. Now the hit show has made its way to BBC One and BBC iPlayer and from the very first episode to the Annika ending there have been plenty of plot threads we can't help but hope are continued or resolved in Annika season 2. The follow-up series is confirmed and there are some things we do already know ahead of its release.
Here we reveal what to expect from Annika season 2 and the big questions we hope will be answered in it…
*Warning: Spoilers ahead*
What to expect from Annika season 2
Thankfully for Annika fans it was confirmed last year that there would be an Annika season 2 and judging from IMDB, the main cast members will all be back in action. We can expect Nicola Walker as DI Annika Standhed, Jamie Sives as DS Michael McAndrews, Katie Leung as DC Blair Ferguson and Ukweli Roach as DS Tyrone Clark. Silvie Furneaux will also be back as Annika's teenage daughter Morgan and there's also be a new member of the Marine Homicide Unit when Varada Sethu debuts as DC Harper Weston.
We can also expect that like we've seen in the likes of Vera season 12, Annika season 2 will have standalone stories each episode. This format was laid out in season 1 and it looks as though we can also expect a six episode long season again. Although there's not been an official release date announced for Annika season 2 it's set to premiere in 2023.
The questions we need answers for in Annika season 2
What happened between Annika and her parents?
At the end of Annika's very first episode the experienced DI gives fans an insight into not only her upbringing more generally but into what seems to be a difficult relationship with her parents.
After making her first arrest of the series she says in a typical aside, "There was a moment when I was at school, I was 16, and my mum and dad were going back to Norway. I said I couldn't come. I wanted to stay and be a detective. I blurted it out. I think I even surprised myself."
"Anyway they went back on their own," she added. "And, uh, I got free of the life they wanted for me. Not everyone's so lucky."
It's not entirely clear what kind of life Annika's parents wanted for her or whether it was simply that they didn't approve of her desire to be a police officer. However, we were given another intriguing moment later on in Annika season 1 when Annika caught Morgan on the phone to her grandfather in Norway.
"Are you talking to my dad?" she asked Morgan, looking calmly horrified before snatching the teenager's mobile from her and, as revealed by the subtitles, speaking "Norwegian angrily" to her father and hanging up. She told Morgan that she wasn't to plan holidays without asking her, but once again it suggested a somewhat fractious relationship with her dad.
But it seems like we might finally get more answers about Annika's father in Annika season 2. As revealed by IMDB, Sven Henriksen is joining the Annika season 2 cast for three episodes as Magnus Strandhed - none other than the detective's dad. Given he's apparently set to feature in the final three episodes as well it's possible he could be quite a big focus building to the second season finale, though of course we'll have to wait and see.
---
Will Annika tell Morgan who her dad is?
Throughout season 1 of Annika it became increasingly clear that her daughter Morgan was struggling until Annika herself suggested that talking to a professional might help her. Morgan ended up confessing to her therapist Jake that she couldn't remember a time where she felt safe and that she was afraid of her mother's job as a detective tackling dangerous cases. Early on Annika told the audience that Morgan's dad wasn't in her life and expressed concern in episode 3 that Morgan's sessions with Jake could bring up some "tricky father transference stuff".
Just when it seemed like fans would never find out who Morgan's father was, the Annika ending delivered a major twist in the closing stages. Turning once again to camera, DI Strandhed confirmed that her colleague DS Michael McAndrews was Morgan's dad. He'd asked her whether Morgan ever spoke to her father and whilst Annika told him "no" when he went over to chat with the teenager she added that she was doing so "now".
It's clear Michael has absolutely no idea he's Morgan's father either and he has a family of his own. Annika confirmed that it was her choice her daughter's dad didn't play a part in their lives and we can't help hoping that this is explored more in Annika season 2.
After all, it would be strange for the show to bring it up, only to never revisit this storyline again. It's likely Michael and Morgan would both be furious at Annika for not telling them earlier but it'll certainly be interesting to see how the truth comes out and whether it's intentionally or accidentally revealed.
---
Will Annika and Jake get back together?
In episode 5 of Annika season 1 Annika and therapist Jake Strathearn's blossoming relationship takes a different direction after he comes over for dinner. After secretly embarking on a romance, a guilty Annika later told Morgan who was surprisingly fine with it. Jake had been Morgan's therapist and Annika invited him over for dinner with her and Morgan, before leaving the two of them to enjoy ice cream together.
When she returned to her house she seemed to think things were going well when it came to integrating Jake into her life. However, he was reluctant because he felt that Morgan was still attached to him as a therapist and that it didn't help that she hadn't formed any kind of connection with her new therapist yet.
Both Annika and Jake agreed that it was a question of "timing" and that they would pause their relationship. Michael later asked Annika how long she'd said she'd wait and she replied they didn't "put a timescale on it". Sadly, IMDB is currently listing Jake's actor Paul McGann as being in any 2023 episodes so it seems like the therapist won't be back in Annika season 2.
This surely means that he and the detective never managed to work out the timing but it's also possible that they're still waiting or that he won't appear on-screen but will be mentioned by Annika as her partner. Whatever happens, fans will no doubt want to know for sure whether Annika and Jake are over.
---
What will happen with Morgan and Erin?
After struggling to settle in at their new home, Morgan formed a heart-warming connection with Erin Ferguson, DC Blair Ferguson's younger sister. They spent a lot of time together, including a sleepover where Morgan awkwardly returned Erin's phone to Blair in the office. Realizing that Annika isn't aware of Morgan and Erin's relationship Blair ended up guiltily spilling the beans to Annika. She then tried to get Morgan to freely talk about it with her until eventually at the end of episode 5 Morgan invited her mum to accompany them on a kite flying date.
Erin has made Morgan happier than she's been for a long time so it'll be interesting to know if they're still together in Annika season 2. Like Paul McGann, Jade Chan isn't listed on IMDB currently as playing Erin in any 2023 episodes. Hopefully this doesn't necessarily mean that Erin and Morgan have broken up but we'll have to wait and see what lies in store for the teenagers.
All episodes of Annika season 1 are available to watch via BBC iPlayer now.
Emma is a Senior Lifestyle Writer with six years of experience working in digital publishing. Her specialist areas including literature, the British Royal Family and knowing all there is to know about the latest TV shows on the BBC, ITV, Channel 4 and every streaming service out there. When she's not writing about the next unmissable show to add to your to-watch list or delving into royal protocol, you can find Emma cooking and watching yet more crime dramas.