What happened in the Annika ending and will there be a season 2 of the dark Nicola Walker drama as it arrives on BBC?
If you loved the Annika ending you might well be hoping for one particular storyline to be continued further in a possible season 2…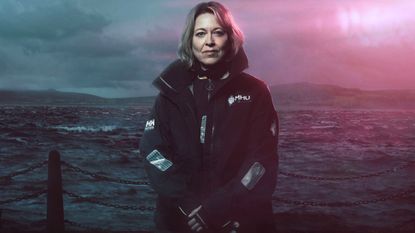 (Image credit: BBC/UKTV/Graeme Hunter)
The Annika ending delivered one huge twist for the main characters as well as solving a particularly close-to-home case.
Over a year after it first premiered on UKTV's Alibi, Annika has now landed on BBC One and iPlayer for fans to enjoy. The crime drama delivers all the atmospheric cases and stunning Scottish scenery you could ever want and rose to become Alibi's most-watched drama for seven years. For those who are still sad Nicola Walker's not in Unforgotten season 5 and won't ever see her in The Split season 4, she shines here as the titular DI Annika Strandhed with her asides to camera. The series is based on the successful BBC Radio 4 drama, Annika Stranded, but is relocated from Norway to Scotland. Both were written by Nick Walker and Nicola played Annika in both mediums.
In the show Annika leads the Marine Homicide Unit (MHU) and fans might well be wondering how season 1 ended. Here we explain the Annika ending including its major revelation and what we know about season 2…
*Warning: Spoilers ahead!*
Annika ending explained
Unlike the likes of Steeltown Murders and Malpractice, Annika takes a decidedly Silent Witness approach and has standalone, separate investigations in each episode. This means that the Annika ending doesn't resolve an entire season-long mystery but it does wrap up its specific storyline and the final moments are particularly intriguing when it comes to the show's future. In Annika episode 6 the main crime that DI Annika Strandhed and her team are looking into is the death of Viola McCaskill whose body was found in the water at the docks.
These were the same docks that DS Michael McAndrews' brother Adie worked at and it turned out he was Viola's next of kin. The two used to be in a relationship but Viola had broken up with him recently, devastating Adie. Michaels' brother was fixed firmly in the team's sights as a possible suspect and Annika didn't immediately believe his alibi - that he was at home asleep on the sofa when Viola died.
After visiting Adie at home, Annika also told Michael that she can't "let [him] anywhere near" the investigation and asked him to step off the case because he's too close to it. Back at the station Annika, DC Blair Ferguson and DS Tyrone Clarke discussed their reasons for suspecting Adie. It emerged that police had been called to the flat above Viola's vintage shop three weeks earlier for a "domestic disturbance" when Adie tried to get in.
Other possible suspects were interviewed and Annika put her own life on the line on a high rooftop to talk down a panicked Gurpreet Muttu who had broken into Viola's shop to reclaim his grandfather's medal.
This had been accidentally put into an estate sale and bought by Viola. He claimed she'd refused to give it back unless he paid for it and refusing on principle, he'd broken in, but he turned out to have nothing to do with her brutal murder. Meanwhile Adie finally came up with Alibi Number 2 and said he'd been doing drugs with an old friend Taylor who denied seeing him that night.
Realising that this alibi is just as shaky as his first one, Adie promptly disappeared without a trace, leaving Michael to defend his brother's escape to his colleagues. They countered with the fact they'd discovered a Vauxhall wheel nut at the docks and Adie drives one.
It was later discovered that Viola had been set to go on a date with a woman called Leila at a bar the night she was killed. Following this new trail Annika, Tyrone and Blair find out that "Leila" never really existed. After the determined DI tracks down the woman in the photo she's told that she had her picture stolen and used by someone pretending to be her and her real name is Freddy. They then talked to Lee Tanner - another person who'd been fooled by the fake Leila and used him to trace the person posing as his online girlfriend.
As the Annika ending raced toward its conclusion it was revealed that Lee killed Viola, believing he was helping "Leila" who claimed Viola had been harassing her when she accidentally sent their meet-up message to Lee.
When Annika sensed something was wrong and was trying to communicate this to her team on the phone, he struck her on the back of the head and put her in her car boot as her colleagues rushed to locate her. Michael was swiftly brought back on board and they tracked down Annika before it was too late for the DI, though Lee had killed "Leila" before they could find her. But the resolution of the case wasn't the only main aspect of the Annika ending.
Alongside the case is the development of the relationship between Annika and her teenage daughter Morgan which has also been a huge focus of the series. Morgan turned 16 in the Annika ending episode and after believing she'd never seen her mum again is relieved when she's rescued and Lee is apprehended.
At the end Michael bought her a pork pie "cake" with a candle in and he and Annika had an enlightening conversation where he asked if Morgan ever spoke to her father to which she said, "no". In a classic Annika twist, the detective then watched Michael bring the cake over to Morgan before turning to deliver an aside to the viewers.
"But she is now," she said softly, finally confirming Morgan's paternity and creating shockwaves that could likely make themselves felt in any potential Annika season 2.
Will there be an Annika season 2?
Given that rather shocking twist in the final stages of the Annika ending fans will no doubt be relieved and delighted to learn that there will be Annika season 2. A follow-up season was confirmed in 2022 and it looks set to land on Alibi in the UK and PBS Masterpiece in the US, just like season 1 did before arriving on BBC iPlayer this year. According to RadioTimes.com, there will be plenty of familiar faces as the main Annika cast members including Nicola Walker as Annika, Jamie Sives as Michael, Katie Leung as Blair and Ukweli Roach will all be back.
They've also reported that Sven Henriksen will be joining them as Annika's dad Magnus and Varada Sethu will be in Annika season 2 as DC Harper Weston. In terms of what fans can expect from the Annika season 2 plot, given the way each season 1 episode focused on a specific case the same will likely be true of the second instalment. However, the personal relationships within the series will perhaps continue to shine through and be just as important, particularly in light of Michael being revealed as Morgan's' father.
Now that the audience knows it would make sense for this to be explored in some way and the truth will no doubt come as a huge shock and adjustment for both Morgan and Michael. With Michael and Annika on the same team and her more senior than him this revelation could also change their work dynamic or influence their ability to work effectively, possibly affecting the successful solving of a case.
Whatever happens after *that* Annika ending we can't wait to be immersed back in the dark investigations of the MHU for a second time very soon.
Where was Annika filmed?
Annika was filmed in and around Glasgow in Scotland, including around the River Clyde and Cowan Street. Other parts of Scotland were also reportedly used for filming the show, including Loch Lomond and locations in Argyll. Given that Annika's the head of the Marine Homicide Unit it also makes complete sense that so much of the scenery in the episodes is water-focused. The Beacon Arts Center in Greenock is also apparently the building used to stand in for the team's base. The Annika filming locations are also noteworthy as the original radio show was set in Norway rather than Scotland as we see in the TV show.
All episodes of Annika including the Annika ending are available to watch via BBC iPlayer now and air weekly on Saturdays on BBC One at 9:15pm.
Emma is a Senior Lifestyle Writer with six years of experience working in digital publishing. Her specialist areas including literature, the British Royal Family and knowing all there is to know about the latest TV shows on the BBC, ITV, Channel 4 and every streaming service out there. When she's not writing about the next unmissable show to add to your to-watch list or delving into royal protocol, you can find Emma cooking and watching yet more crime dramas.