Malpractice ending explained: What happened to Lucinda in ITV's chilling medical thriller and could there be a season 2?
The Malpractice ending delivered plenty of intense moments and some fans might be wondering if this is the last we'll see of Lucinda Edwards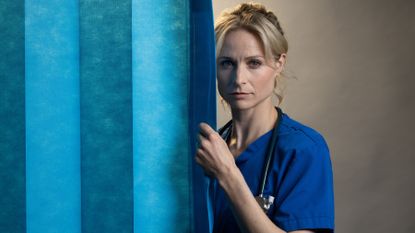 (Image credit: WORLD PRODUCTIONS FOR ITV)
The Malpractice ending left some unanswered questions and resolved plenty of others as this chilling thriller unraveled a huge conspiracy.
Created by former NHS doctor Grace Ofori-Attah, medical thriller Malpractice follows Dr Lucinda Edwards (played by The Wonder's Niamh Elgar) who is investigated after her patient Edith Owusu dies of an overdose. Questions are asked about Lucinda's conduct and as we've seen in the likes of A Spy Among Friends and Unforgotten season 5, secrets can't stay buried forever. As the questions keep coming, it's not just Lucinda who could be in trouble as she sets out to prove her innocence and get to the bottom of what's going on. If you've raced through to the end of the series via ITVX you might also be eager to know more about the finale details.
Here we explain the Malpractice ending, the unanswered questions from the finale and all we know about whether there'll be Malpractice season 2…
*Warning: Spoilers ahead*
Malpractice ending explained
Convinced she'd been framed Lucinda refused to stop investigating and building to the Malpractice ending was growing ever more determined to prove she was innocent of involvement in Edith Owusu's death. Even though in the penultimate episode it looked like she was actually going to prescribe drugs to those who are addicted for Jubair Singh (owner of the Wellspring Pharmacy chain) it turned out to be part of her wider plan. Lucinda played along with Jubair whilst secretly recording him and gathering evidence about what he was involved in.
She handed the recordings to Dr Norma Callahan and Dr George Adjei from the Medical Investigation Unit and was informed that DR Rob Thornbury had died. He had been prescribing drugs to those living with addiction, believing it was safer than them seeking street drugs. Though Rob had been careful and the overdoses had only started recently, signaling to Lucinda that something was wrong with that batch.
Things got a little more dangerous than she'd bargained for after her sleuthing uncovered that the batch of fentanyl that Edith died from had been recalled. Not only that, but it had originated from the hospital - as she discovered after going through Oscar's audit. She furiously confronted Dr Mike Willett about the drugs and accused him of being involved in a conspiracy to divert the hospital's waste drugs to Wellspring Pharmacy where they were being sold to those living with addiction.
He countered that as she'd experienced addiction herself, no one would believe her. Temporarily defeated, Lucinda went home and received a call from a patient, Camilla, who said that her friend had overdosed. It was only after Lucinda had rushed to help that it turned out to have been a trick to lure her out into the open.
Jubair was waiting for her with two other men and she was injected with oxycodone with the intent of killing her. Thankfully for Lucinda she was found and rushed to A&E. As she recovered in hospital afterwards Lucinda was visited by George and Norma and told them that she was feeling "no worse than usual".
They explained that Tom's wife Eva Tait had confessed that she'd planted the prescription that appeared to have been written by Lucinda in Edith's home. Eva had also come clean about Jubair and her involvement in pointing people from the rehabilitation clinic like Edith and Camilla towards those involved.
Lucinda had been right and Norma and George discovered that for five years the hospital had been increasingly over-ordering drugs and that the waste drugs were going to Developing Aid. This is the charity Lucinda found out about and Norma and George were shocked to discover the name of the person who'd been heavily involved in the whole operation.
Dr Leo Harris was a trustee of Developing Aid and manipulated pharmacy audit data and hid the extent of the hospital's drug waste so that it could be collected and sold to wealthy individuals via the pharmacy. Unsurprisingly, Leo denied it but was swiftly arrested by police for fraud and Eva also received a visit from the police.
Meanwhile, Jubair was seen on the phone assuring someone else that he'd covered their tracks. But it seems someone further up the chain wanted to be completely sure and in a twist worthy of Line of Duty, Jubair approached by someone pretending to have a package and was killed.
The Malpractice ending's final scenes focused on Lucinda and her husband Tom on the day of her tribunal and left the show with just enough of a cliff-hanger that some might be wondering whether there could be a follow-up season.
Could there be a Malpractice season 2?
Sadly for those hoping to see Lucinda's fate explored further, there's been no official confirmation of a Malpractice season 2 by ITV. However, the Malpractice ending does a brilliant job of simultaneously leaving fans satisfied and providing possible avenues if the demand from fans is there for a follow-up season.
In the final moments of the Malpractice ending we saw Lucinda being told by Norma that the prescription she wrote for Camilla as part of her journey to uncover Jubair's involvement could count against her. The doctor is told that the one way she could potentially make things go a little easier for herself is by admitting what she's been going through with her diazepam addiction.
Lucinda protested that she'd be struck off as a doctor but Norma said that this won't "necessarily" happen, though she would be asked to agree to undergo treatment. Still unsure, Lucinda was visited by her husband Tom who had been estranged from.
He begged her to confide in him about why she takes it and eventually Lucinda said that it helped her cope and get through her intense shifts at work, where everyone expected her as a doctor to be calm and unaffected by the terrible things they see and the pressure they're under.
She then broke down in his arms and admitted that she couldn't do this by herself and needed help. Although she feared admitting the truth could cost her her job, Lucinda walked into her tribunal ready to face whatever verdict was given. This was how Malpractice ended and fans never learnt what the decision was.
In a way it doesn't matter as the wider point is that Lucinda is ready to accept the outcome, though if the show was renewed for a second season many fans would no doubt be intrigued to see if she remained a doctor. We also don't yet know exactly who else could be involved in the drugs conspiracy and who might've wanted Jubair's death. This could all be taken further in a potential Malpractice season 2 but even if the show isn't renewed the Malpractice ending answered most of the biggest questions and finished on a more hopeful note.
All episodes of Malpractice are available to watch via ITVX now and episodes also air weekly on ITV1 on Sundays at 9pm.
Emma is a Senior Lifestyle Writer with six years of experience working in digital publishing. Her specialist areas including literature, the British Royal Family and knowing all there is to know about the latest TV shows on the BBC, ITV, Channel 4 and every streaming service out there. When she's not writing about the next unmissable show to add to your to-watch list or delving into royal protocol, you can find Emma cooking and watching yet more crime dramas.