What is an almond mom? TikTok trend calls out the likes of Gwyneth Paltrow and Gigi Hadid's famous mom
They are the latest target of TikTok critics – but just how do you define an almond mom?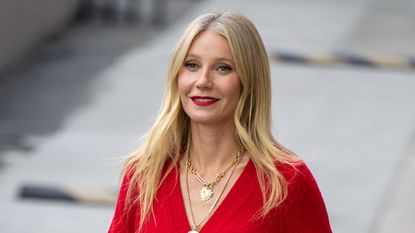 (Image credit: RB/Bauer-Griffin/GC Images)
Gwyneth Paltrow is, apparently, one. And so is Yolanda Hadid, the former Real Housewives of Beverly Hills cast member who just so happened to have given birth to two of the biggest supermodels working today, Gigi and Bella Hadid.
Considering the resumes of these women – GOOP founder and Oscar winning actress (although she nearly didn't get that Oscar), and former-supermodel-turned-supermodel-mom – you might think being categorized alongside them would be a good thing.
Alas, TikTok has other ideas.
For Gwyneth and Yolanda have been picked out as the quintessential "almond mom."
And, while almonds might taste great in a pastry or make great dairy milk substitutes, it's not a description one wants as a parent, it would seem.
All this chatter around "almond moms" has been around for some time now, but it's hit a new peak following Gwyneth Paltrow's recent podcast appearance.
While speaking with Dr Will Cole on The Art of Being Well podcast, the Shakespeare in Love actress revealed a few things – including she's a follower of intermittent fasting, her preference for bone broth for lunch and eating an early dinner that follows paleo (so plenty of vegetables).
Gwyneth also explained that she pairs this strict dieting with intense exercise.
After clips of the podcast episode made it to TikTok, all the comments seemed to repeatedly say the same thing.
Comments included, "The mother of all almond moms," "Almond mom final boss" and "Almond mom realness."
So what does it all mean?
What's the definition of an "almond mom"?
A so-called "almond mom" is a mom who pushes toxic dieting – like suggesting their child eat one almond when they feel hungry.
While Gwyneth wasn't giving advice to her own children to follow, the implication was that her eating and exercise habits could have a damaging effect on malleable minds.
(Gwyneth has, in fairness, responded to the backlash. She explained on her social media the diet was devised with her doctor to help with her symptoms of long Covid. "It's been working really well. This is based on my medical results and extensive testing over time... It's not meant to be advice for anybody else.")
When searching the hashtag #almondmom on TikTok (which now has over 269M views!), other users shared their own experiences with almond parents.
From the many videos, some repeat offenders include parents who refused to keep candy inside the house or who only ever demanded they eat salads with dressing on the side.
When did "almond moms" become a thing?
It's largely thought that the term was inspired by Gigi and Bella's mom, Yolanda Hadid's actions in a 2012 episode of Real Housewives of Beverly Hills.
When Gigi calls her mom in the episode, she was just starting out in the industry and not the supermodel she is today. In the episode, a young Gigi is seen telling her mother she feels weak.
Yolanda's response is to just eat "a couple almonds and chew them really well."
While it caused an outcry at the time, Yolanda has since clarified her advice, telling People in 2022 that the clip was taken out of context and that she made the comment when she was "half asleep" with "no rhyme or reason to it."
Jack Slater is not the Last Action Hero, but that's what comes up first when you Google him. Preferring a much more sedentary life, Jack gets his thrills by covering news, entertainment, celebrity, film and culture for woman&home, and other digital publications.
Having written for various print and online publications—ranging from national syndicates to niche magazines—Jack has written about nearly everything there is to write about, covering LGBTQ+ news, celebrity features, TV and film scoops, reviewing the latest theatre shows lighting up London's West End and the most pressing of SEO based stories.