What does Jennifer Aniston's tattoo mean? The special meanings behind her two tattoos revealed
Ever wondered the meaning behind Jennifer Aniston's tattoo? She actually has two!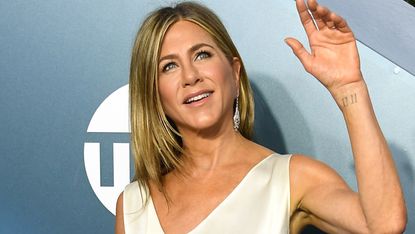 (Image credit: Photo by Steve Granitz/WireImage/ Getty Images)
Jennifer Aniston's tattoos have caught the attention of her fans once again, with the Friends star sharing a glimpse of her sentimental foot ink on Instagram.
The iconic Friends actress took to social media to reveal a peek at the stunning shots from her September 2021 cover shoot for In Style magazine.
The snaps show Jennifer with her touching foot tattoo on display—but what exactly does it mean?
Jennifer has the word 'Norman' tattooed on the inside of her right foot as a tribute to her late dog.
The star, who rose to fame playing Rachel Green, lost her beloved pooch Norman in 2011. That year, Jen got her first-ever tattoo to honor the loss of her pet.
The 14-year-old Welsh corgi-terrier was thought to be a constant support to Jennifer during some of the toughest times of her life and she was understandably devastated when her "baby boy" passed away.
Now, Jen is a dog-mom to furry friends Clyde and Sophie and she adopted Great Pyrenees puppy Lord Chesterfield in October last year, admitting he "stole her heart" straight away.
Jennifer also has '11 11' tattooed on her wrist and the star Apple TV's The Morning Show finally revealed the meaning behind it earlier this year.
It turns out that Jen isn't the only one with the cryptic '11 11' tattoo and it's actually a lovely nod to a very special friendship.
Back in February, Jennifer's close friend Andrea Benewald shared a touching tribute to mark her 52nd birthday, revealing that the pair of them have matching '11 11' wrist inkings.
"Happy Birthday Jen! 💖🌈💖You are the best-est, most beautiful, talented, big hearted, kind and FUNNY woman on the planet! Here's to YOU on your BIG day!" Andrea penned beside a series of wonderful photos of the pair.
"Of course it's the most 💥powerful💥 day of the year with New Moon in Aquarius!!! 🌙Makes sense that the entire Universe would be in ✨🌎✨alignment with LOVE on your birthday! ❤️You are LOVED beyond measure.❤️ Can't wait to celebrate and make more magical wishes! 11:11✨🙏✨ LOVE WALKING THROUGH THIS LIFETIME WITH YOU. Here's to 37 MORE years of celebrating birthdays.😳🎉 Love you!!!"
The friends star first showed off the tattoo back in 2018, and last year a source told People that she chose it because she's "very spiritual" and that "the number 11 is also special to her because of her birthday and [her late dog] Norman."
It's believed Jennifer's tattoo on her wrist is also representative of her love for Norman, with a source telling People magazine that it represents the year her four-legged companion died.
And Jennifer's birthday is 11th February, so it's unsurprising the number 11 has special meaning for her.