It's time to add Tiger King season 2 to your watch list as the hilariously bonkers tale continues
Netflix hit Tiger King has returned for season 2 but is Joe Exotic included?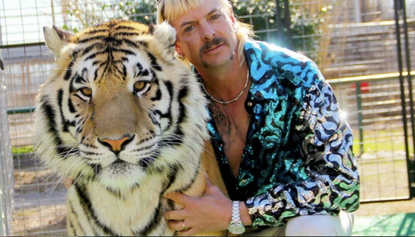 (Image credit: Netflix)
Tiger King season 2 has finally landed on Netflix—and it looks even more insane than season 1.
Since the series' premiere, the show's primary subject, Joe Exotic, has been making headlines. From missing out on a Trump pardon to the reason why he stayed married even after splitting from his wife, it seems like the star always has a lot to say—and he's likely just about to get chattier, as the trailer to Tiger King season 2 suggests.
What is Tiger King about?
Tiger King: Murder, Mayhem and Madness is a 7-episode true-crime documentary that focuses on the life of former zookeeper and convicted felon Joe Exotic. While exploring his day-to-day at the Greater Wynnewood Exotic Animal Park in Oklahoma, the series also delves into Joe's relationship with one Carole Baskin, a big cat conservationist in the era that also owned Big Cat Rescue.
As the episodes progress, the relationship between the two deepens and touches on the legality of each one of their companies. Joe is eventually convicted on a murder-for-hire charge for paying a hitman to kill Carole. He is now serving a 22-year federal prison sentence.
The first season also touches upon the disappearance of Carole's husband Jack Donald Lewis (referred to as Don on the show).
What can we expect from Tiger King season 2?
The new season, which debuts today on Netflix, consists of five episodes that look into a series of stories. From folks trying to capitalize on Joe's fame to the presentation of a potential pardon by then-President Donald Trump and, of course, a renewed interest in the disappearance of Don, viewers can expect the sorts of twists and turns that defined the premiere episodes.
Why you should add Tiger King season 2 to your watch list?
Murder mysteries have a way of keeping us hooked, but Tiger King does much more than that, starring a cast of characters that are truly hard to forget.
In addition to being incredibly entertaining and outrageous, the show is basically unfolding in real life. Joe is still in prison and he has actually written a tell-all memoir that will be released later this month. On November 4, he also tweeted that he had been diagnosed with an "aggressive cancer" of the prostate and urged followers to fight to get him released from his current situation.
The disappearance of Don is also still a mystery that is going to be explored on the second season of the show (no, you're not the only one thinking that Carole might have had something to do with that).
Perhaps most surprisingly, and likely a topic of discussion in the latest episodes of the show, a judge awarded Carole ownership of Joe's exotic animal zoo in May of 2020. The destination closed down in August of that same year.
Where can I watch Tiger King season 2?
Both seasons 1 and 2 are now available for streaming on Netflix. In April of 2020, Netflix also released a special after-show titled "The Tiger King and I" hosted by Joel McHale, which you should watch right before sitting down to enjoy the most recent episodes.
Anna Rahmanan is a New York-based writer and editor who covers culture, entertainment, food, fashion and travel news. Anna's words have appeared on Time Out New York, the Huffington Post, Fortune, Forbes, Us Weekly, Bon Appetit and Brooklyn Magazine, among other outlets.