5 Ways To Celebrate 100 Years Of The WI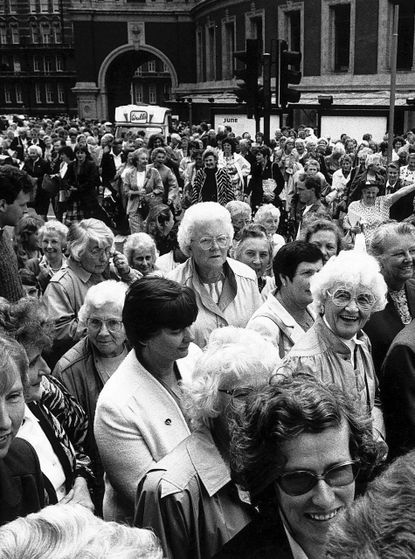 The celebrations for the WI's centenary year have been happening all year round - but with 16 September marking the official birthday, we think it's time to really get stuck in. Formed in 1915 in Anglesey, North Wales, the organisation initially began as an attempt to encourage women into food production during the First World War - and has since grown into the largest women's voluntary organisation in the UK. From humble beginnings, it now boasts over 200,000 members, and has played a unique role in encouraging women to engage in a variety of activities, courses and campaigns. Jam may be what they're famous for, but that barely scratches the surface of the work these women do. So join us in these five fun ways to celebrate 100 years of this incredible organisation.
1. Get tweeting!
Got an inspirational message to share? On 16 September, a group of WI members in central London will be live-stitching hundreds of commemorative tweets that come in on the day onto a canvas, which will be placed on permanent display at WI HQ. Submit your tweet by using the hashtag theWI_100years for the chance to be included.
2. Visit the WI Centennial Fair
Held at the Harrogate International Centre from 3-6 September, the WI Centennial Fair is the first of its kind - and will showcase all that is great about the WI. Test your skills at one of over 150 workshops on everything from flower arranging to needle felting, head to the live kitchen theatre and learn how to cook new cuisines - or even plan your next escape at the travel and outdoors theatre. Open to members and non-members; thewishow.com.
3. Throw a party
WI groups all across the UK are holding their own centennial parties throughout September (think fruit and fizz evenings and afternoon teas), so why not create your own? Find inspiration by viewing the interactive map of member's celebrations here: thewi.org.uk/centenary/members-celebrations.
4. Watch the WI centenary play
Don't miss your chance to see brand new play, Raising Agents, which tells the story of a struggling WI group who are thrown into disarray by the arrival of a new member - a hotshot PR guru with big ideas on how to turn the group around. Touring the country until late October; £50 for members or £55; mikron.org.uk.
5. Attend the 2015 Gala Concert
An evening of breathtaking music awaits at the NFWI Wales Gala Concert on 18 September. Held at Cardiff's St David's Hall and hosted by radio presenter Beverley Humphreys, the evening will include performances by tenor soloist Rhys Meiron, soprano soloist Elin Manahan Thomas, harpist Catrin Finch, and the Bon Appétit Trombone Quartet. Open to members and non-members, £25 for all.
To find out more, go to thewi.org.uk.