The Pursuit of Love soundtrack is giving serious nostalgia, and we're listening on repeat
The Pursuit of Love soundtrack is very similar to period drama in its song choices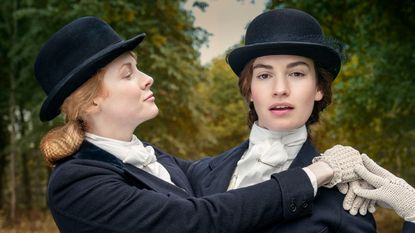 (Image credit: BBC)
Caught the first episode last night and looking for the Pursuit of Love soundtrack? You've come to the right place to add all the songs to your Spotify playlist.
Adapted from Nancy Mitford's 1945 book of the same name, the Pursuit of Love stars Emily Beecham, Lily James, Dominic West and Andrew Scott, and will air in three parts on the BBC, replacing Line of Duty on Sunday nights at 9pm.
Arguably Mitford's best-loved novel, The Pursuit of Love is a coming-of-age tale about female friendship and romance. It follows protagonist Fanny Logan (Beecham)—also our narrator here—and her best friend and cousin Linda (James) as they come of age in the English countryside under the thumb of Uncle Matthew (West).
Taking place in 1920s Oxfordshire, The Pursuit of Love is very similar to Bridgerton and The Handmaid's Tale in the way that it juxtaposes its setting with a far more modern soundtrack. Think 70s rock and 90s alternative tracks with a bit of Nina Simone thrown in for good measure. Here are all the songs that feature, per the BBC.
The In Crowd by Bryan by Bryan Ferry
You'll definitely recognise this one from the Pursuit of Love trailer, above, Bryan Ferry's The In Crowd set the tone for the three-part adaptation way before it aired—the "in crowd" in this case being Lily James' charismatic and over-the-top Linda Radlett.
Dandy in the Underworld by T. Rex
English band T. Rex are about as synonymous with glam rock as "cheese" is to "on toast". Bringing 1970s rock to the rural countryside of the 1920s, the sound of Dandy in the Underworld accompanies the eccentric Lord Merlin's first appearance—yes, that is the Hot Priest from Fleabag.
Ceremony by New Order
New Order may be more universally known for that '90s World Cup hit, but it's a track from their album the decade before that made it on to the Pursuit of Love Soundtrack, adding a kind of melancholy vibe to its scene.
The Pursuit of Love Soundtrack—all songs from the BBC drama
The In Crowd, Bryan Ferry
Blue Red and Grey, The Who
Deceptacon, Le Tigre
Ceremony, New Order
Dandy in the Underworld, T Rex
Sea of Love, Cat Power
Modern Girl, Sleater-Kinney
The Orchids, Psychic TV
Give My Love to London, Marianne Faithfull
Woncha Come on Home, Joan Armatrading
Are You Leaving for the Country, Karen Dalton
Cissy Strut, The Meters
Be My Husband, Nina Simone
Paris 1919, John Cale
A La Vida, Maria Arnal & Marcel Bagés
Plus Je T'Embrasse, Blossom Dearie
Deshabillez-Moi, Juliette Gréco
Rue St Vincent, Yves Montand
Guaglione, Marino Marini
The BBC has a handy Pursuit of Love soundtrack playlist here, but it's only available until June 8th, so we recommend saving the tracks to your own Spotify creation for expiry-free listening.
While the show got mixed reviews on Twitter—some loved it, others hated it—director Emily Mortimer's soundtrack went down a treat with BBC viewers.
The Pursuit of Love soundtrack Twitter reactions
I thought The Pursuit of Love was just fabulous. Exuberantly staged and wittily directed, with the most perfect soundtrack. I loved every minute.May 9, 2021
See more
Just watched episode one of The Pursuit of Love and I'm hooked already. Beautiful and playful direction with pitch-perfect humour and a brilliant modern soundtrack. A truly unique show. Can't wait to watch more. (Oh and Andrew Scott as Merlin...WOW). #ThePursuitOfLoveMay 9, 2021
See more
Well I loved The Pursuit of Love on the BBC. Andrew Scott is cooler than I'll ever be. @Emily_Beecham and Lily James are excellent. Every tune on the soundtrack is a banger. Can't wait for Emily Mortimer to direct more. #ThePursuitOfLove pic.twitter.com/TBuMpdoMB7May 10, 2021
See more
Brilliant dramatisation of Nancy Mitford's The Pursuit of Love on @BBCOne . The soundtrack, which includes T-Rex's Dandy in the Underworld & New Order's Ceremony, is bloody inspired. https://t.co/WhAsvymWF0May 10, 2021
See more
Finished The Pursuit of Love and all I want to do now is drink martinis and dance to the soundtrack, preferably in Paris and with Andrew ScottMay 10, 2021
See more
The Pursuit of Love continues with on Sunday 16th May at 9pm on BBC One. All episodes are available to stream on iPlayer now.
Lucy is a UK-based beauty journalist who has written for the likes of Marie Claire, Cosmopolitan, OK!, Women's Health and more, as well as contributing to woman&home. Her work covers everything from expert skin and haircare tips to the latest product launches and the show-stopping beauty looks spotted backstage at London Fashion Week. During her career she's interviewed some seriously famous faces, from Little Mix to Drag Race royalty The Vivienne, as well as chatting to the industry's leading hairdressers, dermatologists and make-up artists.