The luxury Succession condo is up for sale—here's what you'll get for $23 million
See inside the former condo of Succession character Kendall Roy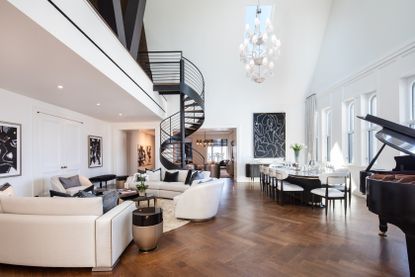 (Image credit: Travis Mark)
If you've got a few million dollars lying around and are an avid fan of the HBO hit show Succession, this piece of news is for you—the infamous condo from which Kendall Roy is planning to take over his family business is currently up for sale for $23m.
The super-luxe, 6-711-square-foot home (a prominent location in Succession season 3) is found on the 29th floor of the Woolworth Tower Residences in Tribeca, New York, at 2 Park Place. The current listing agent is Stan Ponte, who is a global real estate advisor at Sotheby's International Realty.
You can check out the space by catching up on all episodes of the current season of the show (here's our primer on where to watch Succession online). Future (lucky!) owners will revel in the five bedrooms, four full bathrooms, two powder rooms and the private terrace that make up the two-level home.
A word about the kitchen, which is truly a sight for sore eyes—custom Dada cabinetry takes over the space alongside Miele appliances, two dishwashers and a wine fridge.
As for amenities, the building will give you access to a wine tasting room, a wine cellar, a fitness center complete with a 50-foot lap pool and more.
Prospective bidders should also know that the Homeowners Association Fees connected to the property—which, on the show, belongs to Kendall's ex-wife Rava Roy—amount to $12,765 per month (which, let's be honest, is small change for someone who can doesn't scoff at the price of the apartment to begin with).
---
The building itself certainly boasts historical significance—an official National Historic Landmark designated as such by the US National Parks Service back in 1966. In fact, although no longer the case, the property once was the very tallest one in the world (when construction was completed back in 1913, it raked in at 792 feet).
Not that you need another reason to consider touring the condo, but you should know that the price actually dropped over $2 million over the course of the last year. To some, this might actually be a steal.
Anna Rahmanan is a New York-based writer and editor who covers culture, entertainment, food, fashion and travel news. Anna's words have appeared on Time Out New York, the Huffington Post, Fortune, Forbes, Us Weekly, Bon Appetit and Brooklyn Magazine, among other outlets.