The House Across the Street: is the suspicion-heavy Channel 5 drama based on a true story or a book?
The House Across the Street stars Harry Potter's Shirley Henderson and Line of Duty's Craig Parkinson and you might well be wondering what it's based on...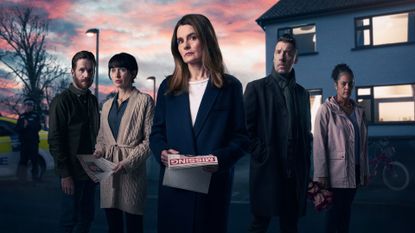 (Image credit: Channel 5/Viacom CBS)
The House Across the Street sees a child's disappearance become the ruling obsession of one woman's life as she throws herself into finding out what really happened…
From its title alone Channel 5's The House Across The Street promises some serious suspense and as anyone who's binge-watched their way through The Watcher will know, there's nothing like a little suspicion to throw a neighborhood into chaos. This is certainly the case in The House Across The Street which stars Harry Potter actor Shirley Henderson as lonely single mother Claudia alongside Line of Duty's Craig Parkinson as teacher George. When a local girl goes missing, Claudia gains a new sense of purpose and as her fixation with the case grows steadily more intense everyone becomes a suspect.
But what is The House Across the Street based on, is it a true story or did a book inspire this chilling storyline?
*Warning: spoilers ahead!*
Is The House Across the Street based on a true story or a book?
Whether it's The Staircase's exploration of a mysterious real-life death to the sinister series that Karen Pirie is based on, thriller fans have become used to their favorite shows being inspired by equally chilling real-life events or books. But whilst it's all-too easy to wonder whether the new Channel 5 drama is adapting anything specific, The House Across the Street isn't based on either a true story or a book.
Instead, the show is understood to be an original, purely fictional series written by White House Farm creator Giula Sandler. Fans might be forgiven for speculating about whether The House Across the Street's story has a real-life or book foundation to it, given the emotionally-charged subject matter and the way there are books with this title out there, including Lesley Pearse's unrelated 2018 release.
The Channel 5 drama's title is also reasonably similar to Netflix's thriller-comedy series, The Woman In the House Across The Street From the Girl in the Window, which was released in January 2022.
The House Across The Street show follows cancer survivor and school nurse Claudia who feels out of place and emotionally disconnected from her son Rhys and community. But that all begins to change when five-year-old Emily Winter disappears from a playground. Emily is the young daughter of Claudia's neighbors Owen and Sabine and she soon steps in to spearhead the civilian search for the missing child.
But the determined nurse and mother doesn't stop there! Claudia becomes ever more emotionally involved in her self-appointed question to find Emily and discover who might've taken her.
In the process her neighbors become prime suspects, including Emily's mother Sabine whose coldness in the face of their family tragedy means Claudia sets her sights on her as a possible villain too.
Newcomer teacher George is another suspect and isn't trusted by the locals who deem him secretive though a preference for privacy doesn't necessarily mean that he's involved in whatever happened to Emily. Then there's Joanne who, if anything, seems to be enjoying all the local drama and attention, and Claudia herself.
It's only natural for viewers to feel a certain amount of empathy for the main character, but Claudia's obsession with Emily's disappearance does add another chilling element to this already dark tale…
Who's in The House Across the Street cast?
The House Across the Street cast list:
Claudia played by Shirley Henderson
George played by Craig Parkinson
Owen played by Ian Lloyd Anderson
Sabine played by Lisa Dwyer Hogg
Joanne played by Sara Powell
Dave played by Ronan Leahy
Leon played by Luke Griffin
The House Across the Street cast is led by Scottish star Shirley Henderson, who's known for everything from Trainspotting to Bridget Jones's Diary and, of course, as the iconic and ever-melancholic Moaning Myrtle in the Harry Potter films. She plays Claudia, who has survived a battle with cancer and feels distant from her son, whom she co-parents with ex-husband Leon.
It is her search for some kind of meaningful connection with the people and world around her which first sparks her desire to get involved in finding Emily Winter.
Speaking to RadioTimes.com (opens in new tab), Shirley explained, "She's just hooked into something that starts to wake her up a bit, allow her to start feeling things she hasn't felt for a long time and bubble inside, good and bad."
And whilst she confessed that she didn't know exactly where it was going, that in itself is what helped attract her to the role of Claudia and the show.
"I didn't really know what direction [The House Across the Street] was going to go with all of this. But that was enough for me to feel there's something interesting here," she said.
She is joined in The House Across The Street cast by Craig Parkinson AKA Line of Duty's corrupt cop Matthew 'Dot' Cottan, who plays teacher George - far cry from his role on the BBC show.
"When George fell into my lap, his innocence on the face of it [appealed to me]. He's a lost soul, and George and Claudia come together as kindred spirits in a way. They meet each other, they find each other because they're both quite lost in very different ways," he said. "I was drawn to human characters that are quite lost and broken."
Craig continued, "And we all stumble along the way. And it's about how we pick ourselves up and meet other people. And maybe those other people that we meet along the way. And we have a connection. We can help each other. But it's a difficult road that we have to walk.
"We asked for a character arc on how it would pan out and everything seemed to fit with this. It just seemed to be, and it is, something that little bit more intriguing, a little bit darker and not your run of the mill drama."
Vikings star Ian Lloyd Anderson stars alongside Shirley and Craig as Emily Winter's dad Owen, with The Fall's Lisa Dwyer Hogg as her mum Sabine. Unforgotten actor Sara Powell plays their neighbor Joanne, Out of Innocence's Ronan Leahy plays Joanne's husband Dave and Luke Griffin from The Frankenstein Chronicles plays Leon - Shirley's ex-husband.
How many episodes in The House Across the Street?
There are just four episodes in The House Across the Street, mirroring the amount seen in recent BBC hits Inside Man and The Capture season 2. Whilst this might not sound like a lot, there's plenty of time to build up suspicion as Claudia's investigation journeys towards what looks set to be an emotional conclusion.
The first episode landed on Monday October 17 at 9pm on Channel 5, the second will air on Tuesday October 18 and the following episodes will air the following Monday and Tuesday in the same scheduling slot. This means there's not long to wait until the House Across The Street finale which will air on Tuesday, October 25.
So whilst Claudia (not to mention us viewers) doesn't yet know where Emily Winter is, The House Across The Street will surely provide us with plenty more creepy revelations and murky moments before the truth is unveiled. Until then, fans will just have to come to their own conclusions about which of Claudia's neighbors could have possibly been involved in what happened…
Emma is a Senior Lifestyle Writer with six years of experience working in digital publishing. Her specialist areas including literature, the British Royal Family and knowing all there is to know about the latest TV shows on the BBC, ITV, Channel 4 and every streaming service out there. When she's not writing about the next unmissable show to add to your to-watch list or delving into royal protocol, you can find Emma cooking and watching yet more crime dramas.