Strictly's Carol Kirkwood Reveals Her Pre-Show Confidence Trick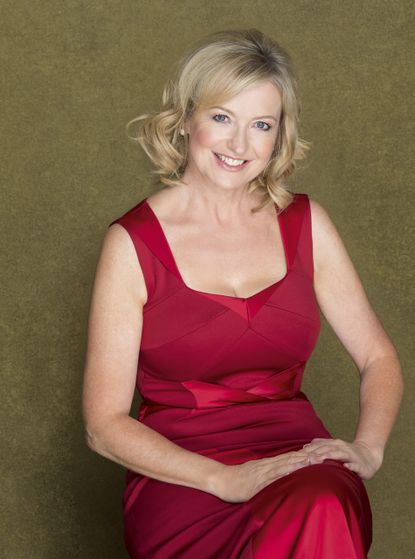 BBC weather presenter Carol Kirkwood, 53, is single and lives in Berkshire. Her professional partner is Pasha Kovalev.
Strictly strength?
My smile. Being happy is my default position and that helps when you're at the bottom of the leader board. Strictly has all the elements that I love in life - glamour, sparkly dresses, good music and gorgeous men!
Strictly struggle?
Remembering the steps! I've never been formally trained and I don't have any special moves - dancing in the past has been about shaking my hips around a bit. Luckily Pasha is so patient - even if he has told me something a million times before he'll tell me again until I get it right.
A night out with Pasha would be spent...
At my house! I have a huge soft spot for him, although I'm probably old enough to be his mother and he's not single!
Fantasy dance moment?
Getting a score of 10 from Len and more than a 2 from Craig.
My pre-show confidence trick is...
One that Susanna Reid taught me. I visualise putting all my nerves into a box and leaving it outside of the studio. I've had plenty of advice from my BBC colleagues because so many of them have done the show before. Chris Hollins, who won with Ola, told me to leave it to the professional to do all the hard work. Bill Turnbull told me to enjoy it because you don't know how long you'll be in for. I've also been carrying around a horseshoe good luck charm that was sent to me by a viewer.
Earliest Christmas memory?
Going to Midnight Mass on Christmas Eve with my seven brothers and sisters. My dad used to make the crib, which was blessed, and my mum playing the organ while we sung Christmas carols.
The present I'd really like is...
An Aston Martin DB9 - I love fast cars!
Strictly Come Dancing is on BBC One on Saturday and Sunday evenings.