Strictly Come Dancing's Tess Daly reveals her real name and why she changed it
We had no idea!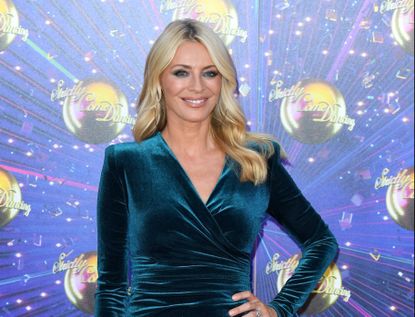 (Image credit: WireImage)
We are absolutely thrilled that Strictly Come Dancing is back on our screens.
And over the years presenter Tess Daly has become a household name since she started hosting the popular BBC1 entertainment show with Bruce Forsyth back in 2004.
But the star has revealed that she changed her name to "Tess" when she entered the showbiz world and that she has a different birth name...
...Tess' real name is actually Helen!
The TV presenter says that this can be confusing because her mum sometimes calls her by her birth name - despite the fact she's been called Tess for twice as long as she was called Helen.
Speaking to The Weekend, Tess said, "My mum's really the only person who still calls me Helen, and that's not often. She tends to call me 'love', so when she does say 'Helen' it can take me a while to respond."
But she added, "I've never changed it by deed poll or anything because I think it would be disrespectful to my parents."
Tess says she was told by professionals in the modelling industry at the age of 17 that her first name "Helen" and surname "Daly" sounded too similar and wouldn't work.
So, after a chat with her agent, the pair settled on the name Tess.
She added, "My agent was obsessed with Nastassja Kinski at the time, who was in the film Tess, and thought I looked like her. So Tess it was. I was gullible and impressionable.Mind you, two weeks later I was in Japan then travelled the world. Paris, Milan, New York."
Tess returned to our screens last night to host Strictly Come Dancing 2020 but the show took on a slightly different format to support social distancing.
All the judges sat two metres apart and the hosts kept their distance from celebrities and professionals.
Commenting on the new measures, she said, "It's still odd. The weirdest thing will be not being able to give everyone a hug. I've seen Claudia a few times socially.
"We've been round for dinner, but the natural instinct is to just lunge at her and give her a hug. It'll be the same in the studio.
"It's showbiz, for goodness sake – everyone is tactile. You don't do handshakes. You do hugs. Except we can't. But at least Strictly is happening, and I couldn't be more grateful."
Lizzie Thomson is a regular contributor to woman&home, and also contributes to Metro.co.uk, Ideal Home, Culture Trip, and Evening Standard, covering all things lifestyle.