Could the coronavirus mean bad news for Strictly Come Dancing fans?
We hope not!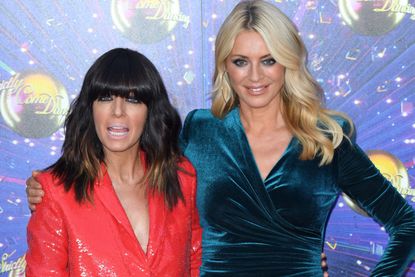 (Image credit: Getty)
Some bad news for lovers of Strictly Come Dancing could be on the horizon.
With the coronavirus pandemic bringing life to a stand still for much of the UK, the future of some of our favourite telly shows could be under threat.
It's been reported that bosses of the smash hit BBC One dancing competition are coming under pressure to bring the upcoming 2020 series together.
Due to the current lockdown gripping the nation, producers are said to be facing trouble getting celebs to sign up for the iconic show.
But there's no need to lose all hope yet! The next Strictly series isn't set to begin until the end of the year and the production team are "determined" to pull it all together.
A source told The Sun, "Many of our preparations for the series – such as casting dancers and working on choreography – can be done virtually if needed.
"One option we could look at further down the line is filming without a studio audience – as the Let's Dance team are doing in Germany."
Meanwhile, a BBC spokesperson said, "We will continue to review all productions on a case by case basis and will continue to follow the latest news and advice from the Foreign Office, World Health Organisation and Public Health England."
If the series does go ahead, loyal viewers will undoubtedly notice some big differences, because some famous faces have announced their departure from the programme.
After seven years starring as a pro dancer on Strictly, 2018 winner Kevin Clifton announced that he is set to leave his life on the show behind.
And hunky pro AJ Pritchard confirmed last week that he too is quitting the Strictly dance floor in order to venture further into the TV world.
Taking to Instagram to share the news, AJ said, 'I have some news for you all. Please see the below statement from my team 💙 also sending my love to everyone in this difficult time, please keep safe.'
Adding an official statement, he posted, '"After four years on Strictly Come Dancing, AJ has decided the time is right to leave the show and follow his dreams to explore opportunities in the presenting world alongside his brother Curtis. AJ would like to thank the team at Strictly and everyone at the BBC for giving him such a brilliant opportunity. AJ would also like to send his love and gratitude to all who have followed and supported his career. He is excited for you all to join him on the next chapter of his journey".'