Suranne Jones Returns In Our Favourite Detective Drama...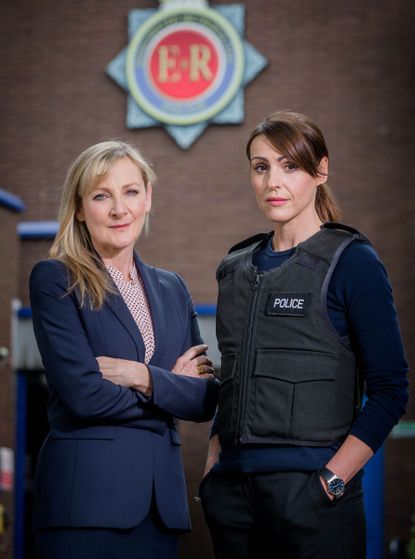 woman&home newsletter
Sign up to our free daily email for the latest royal and entertainment news, interesting opinion, expert advice on styling and beauty trends, and no-nonsense guides to the health and wellness questions you want answered.
Thank you for signing up to . You will receive a verification email shortly.
There was a problem. Please refresh the page and try again.
http://www.youtube.com/watch?v=mNVg3bdMwlE
It's the news we've all been waiting for - Suranne Jones and Lesley Sharp are returning to our screens in a brand new three-part special of Scott & Bailey, and it's just around the corner. Reprising their roles as crime-fighting duo, Acting Detective Inspector Rachel Bailey (Jones) and her super cool partner D.S Janet Scott (Sharp), the pair are full of new ideas and initiatives - and it looks as though they'll need them as they're tackling one of their biggest and darkest cases to date.
What lies ahead is a terrifying and sinister Internet crime investigation of epic scale and unrelenting horror. The team enter a disturbing world where people brag about committing murder and lay down the gauntlet for the next victim - and a game of ruthless life or death daring develops. Do they have what it takes to see the investigation through? We certainly hope so!
Having returned to Syndicate 9's Murder Squad after a year away on her Vice secondment, Rachel needs a bit of time to navigate her position and rekindle her neglected relationship with Janet. But she's quickly forced to hit the ground running - and adjust to life in the squad. We caught up with Suranne Jones herself who revealed more of what's in store for us...
When you conceived the idea for Scott & Bailey with Sally Lindsay, did you ever imagine it would be a hugely successful returning drama series?
Sally Lindsay and I came up with the idea of Scott & Bailey as we wanted a drama with two women in the lead with high-powered jobs, and not playing either a wife, or a mistress, partner, or sidekick. People identify with Rachel, Janet and Gill because they're fallible, and it's empowering to see women doing a good job in a position of authority. I'm so pleased that from our early ideas five years ago, it is still running and that's a long time in television these days!
You're now an Executive Producer on Scott & Bailey - what responsibilities come with that role?
I've always worked closely with the producers and scriptwriters on the show from the beginning and now I'm very proud to be executive producer on the current series. In this role I've been involved in key creative decisions from selecting a director, deciding upon casting, watching the rushes and working on the edits.
This new special features a single crime story. What can you tell us about the case?
It's a very dark and sinister case opening up a disturbing and terrifying world hidden online. Very unlike any other investigation it throws up so many challenges for Rachel, now back on Syndicate 9 as Acting Detective Inspector. The team are under a lot of time pressure to try and unfold a very complex case, which has serious and life threatening consequences - they've got to get to the killer before they strike again, so there's a real sense of urgency for everyone involved.
Rachel is now Acting Detective Inspector - how do her colleagues view that?
There's a resistance amongst some of her colleagues to take Rachel seriously in this new role, and a sense from her she needs to prove herself even though she has just spent a year with the Vice team. The lads are still trying to be pally with her and whilst there's some light banter she does have to pull rank, which can make her feel as though she's turning into the new Godzilla!
What other challenges does Rachel face?
She's throwing everything she can into her work. It's a massive investigation so there's a lot at stake for Rachel. She's leading a team, delegating responsibilities and trying to maintain her professionalism throughout. Since she's been away Syndicate 9 have a new recruit, Anna Ram (Jing Lusi), who Rachel instantly takes a dislike to. Everything about Anna gets her back up and she doesn't take kindly to her inappropriate banter in front of their work colleagues. Outside of work Rachel is living with her sister Alison and her two kids. They're all staying at Rachel's flat, which isn't ideal, and she's hoping it's a temporary measure whilst Alison sorts out her marriage problems with Tony - her snoring and bed hogging is driving her crazy! Also, part of Rachel is questioning whether or not she should start afresh, sell the flat and move away. There's a lot going on and nothing is ever straightforward for her.
How has Rachel changed since we first met her on screen in 2011?
Rachel's changed, and I think it would be strange if she didn't grow up over five series. In the first series she had man trouble, and in the second series it was her drink problem. In the third series she went through a bad marriage and had a family tragedy in series four. She has matured, but can still be a pain in the arse. In this series she has gained valuable experience from her secondment in Vice and is leading the case. The job comes first.
What's next after Scott & Bailey?
Later this year I'll be returning to Doctor Foster to reprise the role of Gemma, and taking on the role as associate producer for a second series for Drama Republic/BBC. I'm also working on script development with some companies and there's a theatre project in the pipeline too.
The fifth series of Scott & Bailey starts on 13 April on ITV at 9pm.
Natalie Whittle is a British journalist specialising in celebrity content in the women's lifestyle sector. She previously held the role of Celebrity Director at Woman & Home and has also worked at Prima, Red & Good Housekeeping.