Princess Letizia Style File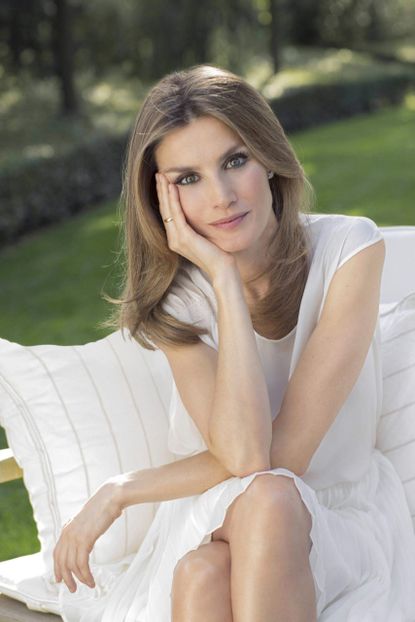 (Image credit: Rex Features (Shutterstock))
The soon-to-be queen of Spain is set to rival our own Kate Middleton in the style stakes. Take a look over Princess Letizia's chic wardrobe to date...
With news that King Juan Carlos of Spain is to abdicate after a 40 year reign, attention has moved to the young couple who will take the throne.
King Juan Carlos's son, Crown Prince Felipe will become the new king of Spain, thrusting him into the limelight across the world - but it's his wife, Crown Princess Letizia, who is making headlines in the British press. Officially known as Letizia, Princess of Asturias, she was a news anchor and journalist before meeting Prince Felipe and embarking on a life of royal duties and public engagements.
But it's not only Letizia's normal start in life that has the British press comparing her to our very own Kate Middleton: As well as flawless make-up and pristine blow-dries, the Spanish princess has a keen eye for fashion and a seriously enviable wardrobe, filled with pieces by her favourite Spanish designers. Could Princess Letizia be about to steal Kate's style crown? Browse her fashion file and decide for yourself...
Crown Prince Felipe and Princess Letizia at the Foreign Ambassadors annual reception at The Royal Palace, Madrid, Spain
Adding a vampish touch to a royal reception in January last year, Letizia wowed in a full-length deep red gown. Long sleeves and a high neck didn't stop the princess oozing glamour and this chic choice was cleverly complemented by a simple hairstyle and minimal jewellery.
Princess Letizia at an Audience of the 'Association Mensa Spain' at Zarzuela Palace, Madrid, Spain
We love this nautical look. Princess Letizia updates a classic white shirt with a navy and white flared skirt and gives the whole outfit an incredibly elegant edge. Letizia finished the look with a pair of nude courts... very similar to Kate Middleton's shoe of choice.
Princess Letizia and and Crown Prince Felipe at a dinner to welcome the Japanese Crown Prince Naruhito to Madrid, Spain
Princess Letizia choose a romantic nude hue to welcome the Japanese Crown Prince Naruhito to her home country. Killer heels and some bold drop earrings made a great antidote to the ultra feminine gown.
Crown Prince Felipe and Princess Letizia at the 125th Session of the International Olympic Committee, Buenos Aires, Argentina
Letizia proves she can work an attention-grabbing, knee-skimming dress as well as any floor-length gown. The princess looked every inch the Spanish siren at the International Olympic Committee with Crown Prince Felipe in September last year.
Princess Letizia meeting school children at La Zarzuela Palace, Madrid, Spain
Not one to shy away from a bold print or a daring trend, the princess worked leopard print into her working wardrobe with ease. Paring a printed blouse with a sleek black pencil skirt and classic courts was a winning combination for Letizia.
Crown Prince Felipe and Princess Letizia at the Prince of Asturias Awards, Oviedo, Spain
Letizia shunned the trend for longer gowns at awards ceremony's when she attended the Prince of Asturias Awards in October last year. Instead, the princess opted for a pretty green tulle and chiffon number that finished just above the knee.
Princess Letizia at the Gold Medals of Merit in Fine Arts 2013 ceremony, Madrid, Spain
A demure coat, which we could see on our very own Duchess, was a fitting choice for Letizia on a chilly december day last year. The cream coat featured a blue print, wide belt detail and a Peter Pan collar - a departure from the princess's usual glamorous choices, but still stylish enough for a royal engagement.
Crown Prince Felipe and Princess Letizia at the 18th Spain-US Forum, Santa Barbara, California, America
Would the British royals approve this dress for Kate Middleton? The off-the-shoulder number might have been too racy for the Duchess, but Letizia worked the monochrome lace number with confidence. An understated clutch and matching courts kept this look classic.
Princess Letizia at the Spanish Federation for Rare Diseases meeting, Madrid, Spain
Letizia is an advocate of many charities and health issues are close to her heart. In 2012 the princess attended a meeting at the Spanish Federation for Rare Diseases in a chic co-ordinating tweed skirt and jacket. Chic nude courts and a simple white blouse finished off a smart and stylish look.
Princess Letizia and Crown Prince Felipe at a Dutch Royal Dinner at The Rijksmuseum, Amsterdam, Netherlands
Showing off her true royal credentials, the stylish Princess Letizia looked stunning on the red carpet in a full-length black gown and crown headpiece. Chic lace detailing and an embellished body complemented the leaf-detail crown. A boxy clutch and peep-toe platforms gave a nod to high fashion accessories.