Pink gets candid about how she lost 36lbs in the run-up to her world tour
Following her weight gain during the pandemic, Pink decided to stay away from sourdough bread and get physically active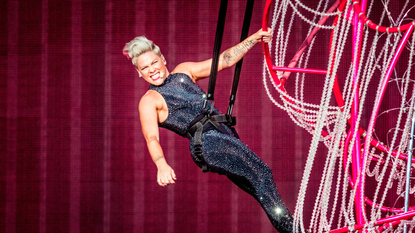 (Image credit: MICHAEL DROST-HANSEN / Contributor)
Pink, known as much for her adroitness in acrobatics as she is for her stellar vocals, is in really good shape - but the star has put a lot of effort into looking great.
In a new interview with Variety (opens in new tab), Pink, who recently admitted she regrets not 'reaching out' to Britney Spears after watching the star's documentary, revealed that, during the COVID-19 lockdown, she actually gained 36lbs.
"Having breaks is good for my voice. Not so good for the body," she said to the outlet. "Especially during COVID - I gained 36 pounds. All I did was make sourdough and then eat the sourdough."
In addition to partaking in the popular lockdown hobby, Pink also noted that physical injuries kept her from staying active for prolonged amounts of time.
"Then I had not just the hip surgery but double disc replacement in my neck," she explained. "So now I'm the bionic woman. I've lost those 36 pounds, and I am stronger than I've ever been in my life. And I'm ready to go, and I'm ready to get the hell out of here. I've been home way too long."
Her decision to work hard and get back into shape was also tied to her upcoming world tour, pegged to the release of her ninth studio album, Trustfall, scheduled for tomorrow.
For inspiration, Pink looked at the greats - including Tina Turner, whose manager, Roger Davies is actually her own as well.
"I saw Tina when she was 69 in Christian Louboutins, running ar­­ound the stage, full choreography, like a crazy person," she said on the record. "And I thought to myself: Shit. So now I have no ex­cuse. I look at the greats and I wanna keep up. I want to keep pushing it and be better - a better human, a better mom, a better daughter, a better sister, a better performer, a better writer. And age works against you, right? But at 43, I'm stronger than I've ever been in my life. I could kick my 33-year-old ass."
Pink also happens to have a great support system around her. Back in 2021, when she had to get her infamous hip surgery, the talented singer took to social media to thank and praise her husband, BMX rider Carey Hart, for helping her recover properly.
"Because I'm married to an athlete who has hundreds of surgeries, I get to meet some of the worlds greatest doctors," Pink wrote on Instagram (opens in new tab) a few years back. "I am never not completely grateful. It was a brutal first week full of tears and pain med depression, ulcers from meds and constant fevers, but my @hartluck brought me through. (No one recovers from surgery like he does, he's not real.) he brought me coffee in the shower, lugged around my 100 pound CPM contraptions every where I went, dried my tears, cooked me oatmeal, kept track of my meds, got me my phone charger, plugged in my compression machines, took my temp, made the bed, and talked me off the ledge."
Speaking of her husband, fans of the couple delight in catching a glimpse of their relationship on social media - like the time Pink poked fun at her husband's 'juicy booty in a funny Instagram video after his pants ripped right before an awards show.
The two clearly know how to have fun, especially after 17 years of marriage (they tied the knot in January of 2006) and while raising their two adorable kids: 11-year-old daughter Willow Sage Hart and 6-year-old son Jameson Moon Hart.
But lest you think the celebrity has it easy, think again. In an interview with PEOPLE (opens in new tab) last year, Pink opened up about motherhood and got candid about the sorts of anxieties she deals with inside her home.
"I cry in my closet a lot," Pink told the outlet. "I get overwhelmed all the time. I am an extrovert. I process out loud and my daughter is an introvert and I don't know what she's thinking half the time."
Stars, they're just like us!
Anna Rahmanan is a New York-based writer and editor who covers culture, entertainment, food, fashion and travel news. Anna's words have appeared on Time Out New York, the Huffington Post, Fortune, Forbes, Us Weekly, Bon Appetit and Brooklyn Magazine, among other outlets.