Pamela Anderson in 'Chicago' on Broadway—actor cast in musical, but is this her first singing role?
Pamela Anderson will take on the role of Roxie Hart in Chicago on Broadway next month through June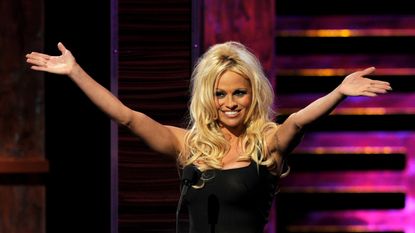 (Image credit: Kevin Winter / Staff / Getty Images)
Pamela Anderson is making headlines again, this time in connection to her Broadway debut. The 54-year-old actor is set to take on the role of Roxie Hart in Chicago at the Ambassador Theatre starting April 12 through June 5.
The announcement comes at the heels of another project: a Netflix special that will help Pamela reclaim her life story after it was revealed that she was not consulted in the making of Pam & Tommy, a new Hulu show about her relationship with ex-husband Tommy Lee.
The controversial miniseries starring Lily James (see her shocking transformation into Pamela!) and Sebastian Stan was reportedly created without the subjects' consent and Pamela has vowed to show "the real story" behind their relationship through a documentary that will prove she is "not a victim, but a survivor."
"From Baywatch to Broadway. I am inspired by the unexpected," Pamela said to the Associated (opens in new tab)Press in an official statement about her stage debut. "This is it and I will not hold back anymore. I am letting go. I am ready to see what I'm capable of. For Chicago, I'll be putting all my cards on the table. I am doubling down—on me."
Pamela's choice to take on the infamous part is an interesting one, as the 1920s musical is an actual satirical take on show business and its tendency to turn criminals into celebrities. In the show, Roxie is a housewife who kills her lover after he threatens to abandon her.
But one question looms on everyone's mind: Can Pamela sing? The actor will, after all, have to take on iconic songs like Cell Block Tango and All That Jazz.
According to the show's producer Barry Weissler, Pamela is ready for her debut. "She can surprise a lot of people," he said to the Associated Press. "The woman has acting chops. She certainly can dance and her singing voice is quite good. So here we go."
Perhaps to the surprise of many, this partnership has been a long time coming. In fact, the producer revealed that he actually asked Pamela to consider playing Roxie over ten years ago but their schedules never permitted it. Given the renewed interest in the actor's life story and career path, the opportunity seems even more timely now.
A slew of famous actresses have taken on the iconic role since Chicago first debuted back in 1996. Among them: Christie Brinkley, Melanie Griffith, Lisa Rinna, Brooke Shields and Ashlee Simpson. And who can forget the 2022 film version of the production? Starring Renee Zellweger as Roxie, the movie itself earned a Best Picture win at the 2003 Academy Awards.
Here's to hoping the production will bring as much fortune to Pamela's career.
Anna Rahmanan is a New York-based writer and editor who covers culture, entertainment, food, fashion and travel news. Anna's words have appeared on Time Out New York, the Huffington Post, Fortune, Forbes, Us Weekly, Bon Appetit and Brooklyn Magazine, among other outlets.