Olivia Newton John's family share first interview since her passing, revealing her heartbreaking final words and new project involving Dolly Parton
Olivia Newton John passed away in August 2022, but fans will get to share in a special new memory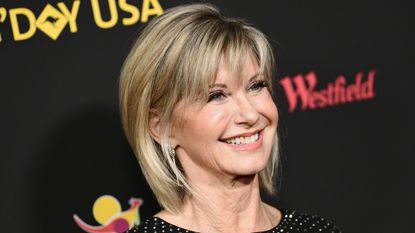 (Image credit: Emma McIntyre/Getty Images)
Fans of Olivia Newton John, get the tissues ready. This one is emotional.
Six months after the Australian actress and singer passed away, her family have sat down for their first full interview.
The touching interview with Today's Hoda Kotb included some moving revelations, including the Grease icon's final words to her daughter, as well as some happier news for fans, as they prepare for the first posthumous project in the star's honor.
Her daughter, Chloe Lattanzi, told Hoda, "The last words she could say to me was, 'My sunshine.' And right before she lost her ability to speak, she was making jokes."
Chloe, who is Olivia's daughter through her relationship with former husband, Matt Lattanzi, added, "I love my mom more than anything. She's my mama, you know? She's not Olivia Newton-John to me, but I'm so glad that she was Olivia Newton-John for so many people."
In fact, the adoration and support from the fans has helped Chloe with her grieving.
"It actually has been a life raft. It has felt like a big hug from the universe," she said. "And I'm very grateful for all of the people who reached out to us and extended their heart and their connection."
John Easterling, who married Olivia in 2008, also feels a sense of gratitude that he got to be part of the Xanadu star's life.
"Every day, I miss Olivia terribly. And yet every day I'm really super grateful that I had 15 wonderful years with this extraordinary human being," he said.
It wasn't all looking back for Olivia's family, however.
In news that will be a balm for many fans, the family are releasing Olivia's final project, a special collection of duets, including one with a very special friend.
Olivia teamed up with one of her lifelong friends, Dolly Parton, to record a special version of Dolly's anthem Jolene.
John told Hoda, "It's a gorgeous duet. Dolly's a wonderful person, was a good friend of Olivia."
Speaking about the duet, which was recorded amid Olivia's battle with cancer, John added, "I think it expresses part of who she was."
"She, as I do, felt like everyone has a very unique and special gift. I mean, for her it was her voice. She knew that. That was a gift. She understood it was a gift, and she gave that very generously."
"That was just part of her gift, part of her giving, part of her sharing, part of her loving."
After the news broke of Olivia's passing last August, Dolly took to her social media to bid an emotional farewell.
"So sad to have lost my special friend Olivia Newton-John," she wrote. "So happy that our lives crossed paths. I know her voice is singing beautifully with the angels."
That same voice can be heard singing here on Earth one more time.
Jack Slater is not the Last Action Hero, but that's what comes up first when you Google him. Preferring a much more sedentary life, Jack gets his thrills by covering news, entertainment, celebrity, film and culture for woman&home, and other digital publications.
Having written for various print and online publications—ranging from national syndicates to niche magazines—Jack has written about nearly everything there is to write about, covering LGBTQ+ news, celebrity features, TV and film scoops, reviewing the latest theatre shows lighting up London's West End and the most pressing of SEO based stories.