Nick Cannon, father of 12, says that doing this one thing makes him feel like he could 'impregnate the whole world'
Nick, who has children with six different women, recently explained how much he loves this one self care act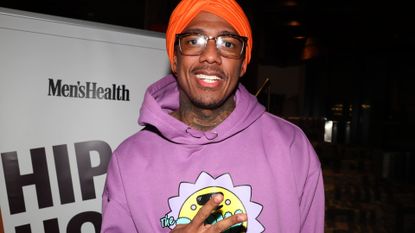 (Image credit: getty Images)
Nick Cannon is known for his time spent in the spotlight on American television - and for having 12 children with six separate women. He recently said that this one act of self-care makes him feel as though he could "impregnate the whole world." Yes, seriously.
In a tweet that appeared to make light of his many (many) children, Nick Cannon revealed that there is one thing he does that makes him feel really good - so good, in fact, that he feels as though he could "impregnate the whole world."
"Something about a Fresh Haircut that makes you feel like you can impregnate the whole world…" he tweeted.
Something about a Fresh Haircut that makes you feel like you can impregnate the whole world… 🤣🤣🤣May 3, 2023
See more
Over the years, Nick has become something of the butt of jokes surrounding his many children. This trend came to fruition after his divorce from Mariah Carey in 2016 (with whom he has twins Moroccan and Monroe) - and proceeded to have 10 more children after the birth of his twins.
Seven of those children have been born within the past three years. In fact, in 2022 alone, he had two separate children with two separate mothers.
Nick knows that he has become somewhat of a meme for his... activity. Last year, he starred in a hilarious Father's Day commercial for Ryan Reynolds' gin company, Aviation, in which he promoted a new cocktail called "The Vasectomy."
"It's almost Father's Day, and the one and only Ryan Reynolds asked me to help us all celebrate with the mother of all cocktails, The Vasectomy" Nick says in the commercial while standing behind a bar. "Lord knows I need one."
Side note: the cocktail features cranberry juice, tonic water, lemon juice, and Aviator gin. It's delicious - but will not prevent pregnancy.
In the commercial, Ryan comes in to try the Vasectomy cocktail, and grabs it from Nick's hand, saying, "I'll take it from here Nick. I have three kids," referencing his children with his wife, Blake Lively.
"I have eight," Nick says, looking deadpan at the camera. This commercial was released over 10 months ago - aka, he's had four children since they filmed this bad boy.
Although he doesn't post much about his 12 children, the topic stills remains a hilarious joke to the fans of the entertainment star.
Underneath Nick's "impregnate the whole world" tweet, fans left comments that had us truly laughing out loud.
"I don't think that's the snip you needed," someone replied.
"Hide yo daughters, hide yo wives. And hide yo girlfriends too cuz Nick Cannon in the mood," another commented.
And the award for favorite comment goes to this gem of a sentence someone replied under his tweet: "Stop pointing your cannon at everyone Nick."
Madeline Merinuk is woman&home's US lifestyle news writer. She covers celebrity, entertainment, fashion, and beauty news but is also obsessed with internet trends - you can find her reciting trending TikTok sounds out loud at any given time.
After winning multiple student journalism awards for her investigative work, she graduated from Hofstra University in 2021 with a B.A. in Journalism. After graduating, she worked at today.com, the digital site for the Today Show, where she wrote pop culture news and interviewed big-name personalities like Emily Ratajkowski, Haley Lu Richardson, Emma Corrin, and more.
Her personal interests, in no particular order, are: cheese, Joni Mitchell, reading, hot yoga, traveling, having multiple chapsticks in every handbag at all times, and dancing to ABBA songs as if she were in the Mamma Mia movies.