Julie Andrews told by Mary Poppins writer Pamela Travers 'you're far too pretty, but you do have the nose for it'
We are not a codfish, reader!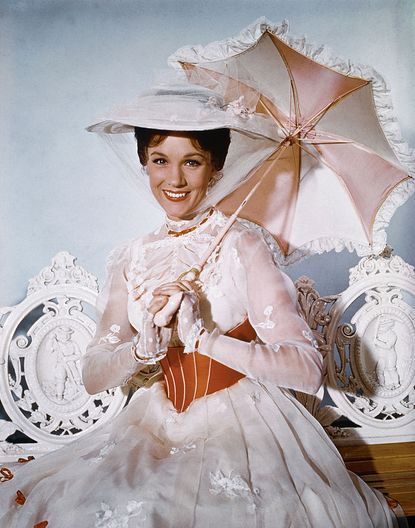 (Image credit: Bettmann Archive)
During an on-stage chat with actor Alex Jennings at the Royal Festival Hall last week, Dame Julie recalled how Walt Disney had promised to wait for Julie to play the role of the formidable nanny until she had given birth to her first child. But not everyone was convinced she was the right person for the role...
The day after her daughter Emma arrived, Julie received a phone call at the hospital from the book's author.
'This is Pamela Travers. I understand you are going to be Mary Poppins…Well, talk to me,' she demanded.
Dame Julie explained, 'I just had a baby yesterday, I'm feeling a bit out of it.' To which the notoriously prickly author replied, ' Well, you're far too pretty, but you do have the nose for it.'
It was this role that saw the young actress receive an Oscar – an award she felt she didn't deserve, and she hid it in her attic for years. As a child star Andrews had hated her early singing lessons with her stepfather, but it soon became apparent she was a bit of a 'freak child prodigy, hitting high notes that would set dogs howling.'
This early success and a tumultuous start in life eventually led her to therapy. And it was while driving to her appointments that she drew up alongside the car of the man who would become her second husband, director Blake Edwards. They were happily married for 41 years.
The audience members asked the actress questions – including one about the current President of the United States. He's famous for his rudeness and petulant outbursts, but how different would our world be if Donald Trump had had Mary Poppins as a nanny? 'She would have shaped him up pretty quickly,' believes Dame Julie. 'If only she had had the chance to try!'
Another questioner asked whether she herself has been star-struck. Recalling dancing with Gene Kelly who she says 'made me look very good' to meeting Cary Grant, Andrews confessed she couldn't believe it when Bette Davies approached her at the opening of The Sound of Music in New York City and said, 'You, young lady, are going to be a very big star.'
Maybe it is such moments that causes Andrews to repeat her greatest mantra: 'Are we lucky, or what?' But despite her fame, you get the impression that this world-famous actress, who at 84 says she is still constantly learning, would have a positive outlook on life, no matter what.
Although her life may not have been practically perfect in every way, her cheery disposition is contagious and regular shouts of 'We love you, Julie,' from the audience were met with huge beams and genuine delight.
When asked what were a 'few of her favourite things' were, she simply replied:
'My kids, my garden, dogs, friends, music, art and private time at home.'
Lucky, or what?
Home Work: A Memoir of My Hollywood Years (opens in new tab) by Julie Andrews is now available in hardback by Weidenfeld & Nicolson, £20
Buy online or in all good book stores.
Books Editor - Woman&Home
It's safe to say, woman&home's Books Editor, Zoe West has read a LOT of books.
As an avid young bookworm obsessed with the adventures of The Magic Faraway Tree and the misadventures of red-haired orphan, Anne Shirley, Zoe never lost her love of reading - and the fact she now gets to do it as her job is a constant source of wonderment for her.
When Zoe isn't reading she is interviewing authors, hosting live events where she gets all the gossip, and seeking out exciting new writers she can't wait to tell her readers about.