Mandy Moore is signing onto Disney's princess celebration with storybook project
The singer and actress said she was "more than happy" to return to the Disney princess role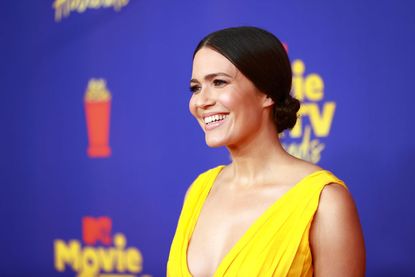 (Image credit: Getty)
Mandy Moore and Disney are partnering on an original storybook collection to "create a kinder world."
Disney released Tales of Courage and Kindness, its new book collection by a group of diverse authors and illustrators from around the world. There are 14 new, original stories told by different princesses and queens. Disney says the collection "

invites audiences of all ages to celebrate and share acts of courage and kindness, inspired by the stories of our beloved Princesses."
"Helping to inspire kids to create a kinder world, I was like, 'Absolutely. Sign me up. I definitely want to be a part of that,'" Mandy told People.
Mandy worked with Disney in 2010 when she voiced Rapunzel in the animated movie Tangled. She will be part of the marketing and promotion of the Tales of Courage and Kindness collection.
"The fact that I grew up singing The Little Mermaid and Aladdin and Beauty and the Beast, I could never fathom that I would somehow be a part of that collection of inspiring characters and women," she told People. "So anything that I can do to keep tapping into the spirit of Rapunzel in my life, I am more than happy to play ball and be a part of that."
Mandy voiced both the speaking and singing roles for Rapunzel, starring opposite Zachary Lvi as Flynn Rider.
"I'd like to think that I'm pretty similar to Rapunzel. I think she's got a great sense of adventure and she likes to see the good in people. She's also very curious about the world. I can definitely relate to her in all these ways," Mandy told Kidz World in 2011.
The new stories will be available for free download through August 31. They are part of Disney's Ultimate Princess Collection, "a once-in-a-lifetime, global extravaganza, surprising and delighting fans all year long through content, products, experiences, and more." The collection also includes princess-themed clothing and accessories available through Disney's e-shop, streaming of all Disney princess sing-a-longs, a Disney princess YouTube channel, and dedicated web pages to each Disney princess.
Rebecca Holland is a travel and food writer based in Chicago. She has written for the Guardian, New York Times, Architectural Digest, Food & Wine, Wine Enthusiast and more. She is currently a graduate student at Northwestern's Medill School of Journalism. When not working, you can find her eating her way through Chicago's neighborhoods, or in non-pandemic times, traveling around the world.