Mamma Mia! creator reveals a third film could be on the way
But Amanda Seyfried has pointed out one big problem...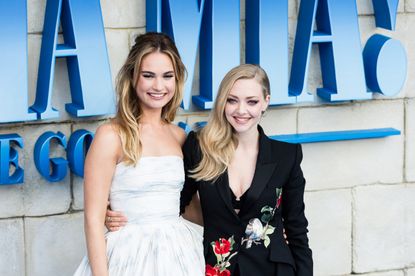 (Image credit: Barcroft Media via Getty Images)
The creator of Mamma Mia! has revealed that a third film could be on the way.
Fans of the epic musical movies, based around the smash hits of iconic Swedish pop group ABBA, were left utterly thrilled when the creative brains behind the original Mamma Mia! stage show admitted that a third film would fit in nicely.
In 2018, Mamma Mia! Here We Go Again hit cinemas ten years after the release of the first film, boasting the same star studded cast and even more ABBA favourites.
Following the huge success of the two joy-filled movies, Mamma Mia! creator Judy Craymer has explained she can see another sequel in the future.
"I was meant to have been getting on with that [writing the third film], in my head, during these months," Judy told the Daily Mail.
"But then I got hit with Covid fog. I think one day there will be another film, because there's meant to be a trilogy, you see.
"I know Universal would like me to do it."
This may just be the best news we've heard all year!
Loads of fans took to social media to rave over the rumours.
'Of course Mamma Miais meant to be a trilogy!!!!3dads!!!!3movies,' one keen Tweeter wrote.
'Can't stop thinking about Mamma Mia3,' added a second, while a third chipped in, 'THE ANNOUNCEMENT OF MAMMA MIA 3 HAS BEEN THE ONLY GOOD PART OF 2020.'
Meanwhile, other loyal fans were busy suggesting names for the potential new release.
'Please nameMamma Mia3"Mamma Mia: Now I Really Know",' one posted online.
'Any guesses onMamma Mia3titles?Mamma Mia: The Winner Takes It All,Mamma Mia: Money, Money, Money,Mamma Mia: The Day Before You Came,' another continued.
Amanda Seyfried, who plays Sophie in both of the Mamma Mia! films recently pointed out a potential problem that could arise when it comes to making a third.
"I wish there was a Mamma Mia! 3, but I'll tell you what – I've said it before and I'll say it again and I hope I'm wrong again – I don't think there are enough ABBA songs to make a third movie."
We're going to be keeping our fingers very much crossed...