Line of Duty fans notice a big mistake - but was it intentional?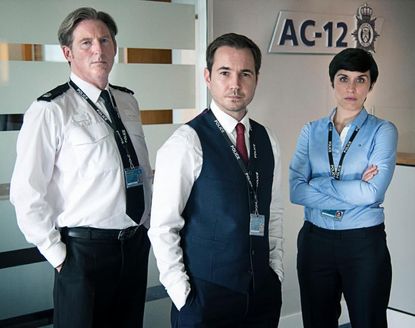 Warning - spoilers ahead! Line of Duty fans spotted a huge blunder in Sunday night's episode – but now, they're convinced that the mistake may actually an important clue in revealing the identity of the elusive H.
Eagle-eyed fans noticed a grammatical error during the beginning of the third episode, which saw the word 'definitely' spelt incorrectly during a conversation on an instant messenger app between undercover officer/gang boss, John Corbett (Stephen Graham), and corrupt cop H.
Corbett and his gang were planning to loot the Eastfield depot, full of police equipment - although it was somewhat of a ruse for John, who was also hoping to meet the elusive H there too.
'Eastfield depot is definately high risk,' H wrote, which led some fans to think it was an intentional typo by show writers, hinting at the identity of the gang leader.
While some thought the typo was simply an error - others were left convinced it would mean something more down the line.
One viewer wrote, 'That misspelling - an error, or "definately" a clue to H's identity? #LineOfDuty.'
While other fans reckoned that it may be typo we see being used going forward by a character we know.
Another fan said, 'I think the incorrect spelling of definitely is a thing on #LineOfDuty, who is going to spell it "definately" next time?....H.'
While a third added, 'Did anyone else notice the mis-spelling of definitely (definately) in the online chat between 'H' and the OSG? There are no accidents with Jed Mercurio's clever writing. Where does this clue lead? #LineOfDuty.'
And a fourth said, 'The clue to the identity of H was definitely in the spelling of 'definately' on the laptop. Call for the spelling police! #LineOfDuty.'
Later on in the episode, viewers watched on as the intense robbery of Eastfield depot took place, and during the raid, DCS Les Hargreaves turned up - seemingly uncovering the clue to 'H'
However, Hargreaves was shockingly gunned down by Corbett as the criminal gang prepared to leave - meaning he was unable to his side of the very murky story.
We can't wait to see what happens next!
Line of Duty returns to BBC One on Sunday at 9pm.
Jenni McKnight is a beauty, lifestyle and entertainment journalist and a regular contributor to woman&home, having previously worked as Acting Senior Content Editor of our former sister site, CelebsNow. She has also written for HELLO! Magazine, GoodToKnow, the Daily Mirror and Yahoo!