Legally Blonde 3 is happening – here's everything we know so far, from casting rumors to the surprising film which is inspiring the plot
Writer Mindy Kaling and star Reese Witherspoon have been sharing updates on the status of Legally Blonde 3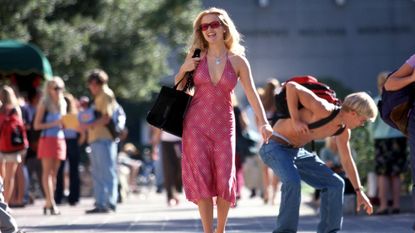 (Image credit: Tracy Bennett/MGM Pictures)
If you're in agreement that the world needs a little more Elle Woods (and Bruiser Woods, both Gemini vegetarians), there's good news – Legally Blonde 3 is definitely still happening.
The original Legally Blonde release date was May 2022, but, it doesn't take a Harvard brain to realize that this didn't come to pass. The long-awaited sequel was just another casualty in the coronavirus pandemic.
However, The Office's Mindy Kaling – who is writing the script for the third Legally Blonde movie – has reassured fans that work is coming along nicely, and she's even got some exciting plans for the movie.
While giving an update on the movie, Mindy revealed that she's desperate to cast Ava Phillippe – Reese's doppelgänger daughter.
Mindy's comments came after working with another one of Reese's children, son Deacon Phillippe, for the Netflix series Never Have I Ever.
Speaking to Extra, she said, "Listen, I think I can do anything, and if that's something [Ava] wanted to do, what a joy to have her in that."
What is the new Legally Blonde 3 release date?
A new release date hasn't been set as of yet, but it's clear everyone involved is thinking about the progression of the Legally Blonde franchise, with inspiration coming from a somewhat unlikely source – Top Gun.
When discussing the project and the delay to the original release date, Reese Witherspoon told USA Today, "It's just like Top Gun, they waited a long time to make another version of that movie, and I loved the nostalgia piece they incorporated in it."
"So definitely that gave us a lot of inspiration about what we would want to do with Elle Woods and make sure that we had all those same touchstones that mattered to people (back) then."
Top Gun: Maverick had a 36-year gap since the original Top Gun, but it has been a box office smash since releasing in May this year. The sequel to the 1986 classic has earned more than $662 million in the U.S. since its release.
What could Legally Blonde 3 be about?
While the details on the project are scarce, earlier this year, Mindy spoke to Time magazine about the themes they are working on.
She teased, "What is Elle Woods like at 42? Does she end up becoming all the things she wanted? How does that personality manifest in a grown woman? Has she become more cynical? Her brightness and her cheerfulness really worked when she was 22, but how has life changed her perspective on things?"
And there could be appearances from familiar faces from the franchise.
Selma Blair revealed she'd be eager to star in the third movie after starring as Elle's rival-turned-friend, Vivian, in the original.
Though Selma's character didn't return for Legally Blonde 2, she recently revealed she'd love to return while making a podcast appearance.
She said, "I'm hoping, hoping that that legacy can continue, because that was...Talk about the good things in life. That movie is one of the good things in life. It's a highlight. I really feel like, 'Yeah, my obit's gonna look okay.'"
So, all the players are in place, and it's a matter of time. Let's just hope we don't (bend and) snap under the pressure of waiting.
Jack Slater is not the Last Action Hero, but that's what comes up first when you Google him. Preferring a much more sedentary life, Jack gets his thrills by covering news, entertainment, celebrity, film and culture for woman&home, and other digital publications.
Having written for various print and online publications—ranging from national syndicates to niche magazines—Jack has written about nearly everything there is to write about, covering LGBTQ+ news, celebrity features, TV and film scoops, reviewing the latest theatre shows lighting up London's West End and the most pressing of SEO based stories.