Ladies and gentlemen, here is the White House's new puppy
Commander is the third dog to move into the White House since Joe Biden became President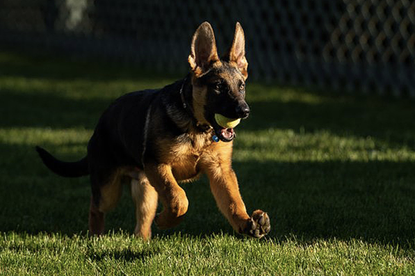 (Image credit: Twitter)
President Joe Biden just introduced us to the newest first dog, Commander—and he might be one of the cutest little puppies we've ever seen.
Jill and Joe Biden, who were recently candid about how harder marriage is inside of the White House, welcomed the purebred German Shepherd inside their (very public!) home this week.
Jill's press secretary, Michael LaRosa, told CNN that Commander was actually a birthday gift to the President, who turned 79 on November 20, from his own brother James Biden and his wife Sara Biden. Commander was born on September 1 so he is just a few months old.
"Welcome to the White House, Commander," Joe posted on Twitter alongside a photo of the puppy with a tennis ball in its mouth. The President also shared a video officially introducing everyone to the "newest Biden." Check it out:
This isn't the couple's first rodeo with a dog. In fact, they were parents to Champ, another German Shepherd, who unfortunately passed away at the age of 13 back in June.
The Bidens also lived with yet another German Shepherd, this one a rescue named Major that was at the center of a slew of aggressive incidents within the White House in the past. After biting a Secret Service member and a National Park Service worker in March, Major was moved to Wilmington, Delaware, where the Bidens have a home, for training.
As of now, Major seems to be comfortable over there. "After consulting with dog trainers, animal behaviorists, and veterinarians, the first family has decided to follow the experts' collective recommendation that it would be safest for Major to live in a quieter environment with family friends," the press secretary said in an official statement.
---
But Commander isn't the only new member of the Biden family—the first couple will be welcoming a female cat in January as well. She has been staying with acquaintances for a few months.
To be specific, as the First Lady said in an interview in April, the cat has been "waiting in the wings." We cannot wait to meet her as well.
Anna Rahmanan is a New York-based writer and editor who covers culture, entertainment, food, fashion and travel news. Anna's words have appeared on Time Out New York, the Huffington Post, Fortune, Forbes, Us Weekly, Bon Appetit and Brooklyn Magazine, among other outlets.