Kristen Stewart's engagement news sends the internet into a frenzy
The official Twilight account "couldn't be happier" for the actress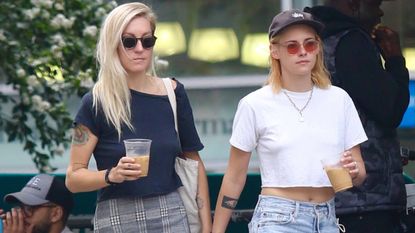 (Image credit: MEGA / Contributor)
Actress Kristen Stewart announced her engagement to her girlfriend of two years, Dylan Meyer, on The Howard Stern Show.
Unsurprisingly, fans took to social media to congratulate the couple and profess their adoration for the star of the new Spencer movie. The Pablo Larraín film will focus on the Christmas holiday during which Princess Diana (played by Kristen) allegedly decided to officially leave Prince Charles.
The internet and legions of fans of the star were of course quick to react to the happy news. "Yes, I absolutely did tear up at Kristen Stewart's engagement announcement," one Twitter user admitted.
yes I absolutely did tear up at Kristen Stewart's engagement announcementNovember 2, 2021
See more
"Congrats to Kristen Stewart on her engagement!" tweeted another fan. "Now let's get her a much deserved Oscar for Spencer and make this an all-around killer year for our bad-ass queen."
So incredibly happy for Kristen & Dylan on their engagement 💍 they deserve all the happiness in the world!!! ❤😍🥰 #KristenStewart pic.twitter.com/1BGvw16YY3November 2, 2021
See more
Even the official Twilight account, the movie that initially brought Kristen to fame back in 2009, chimed in, "it's what she deserves."
literally couldn't be happier for kristen stewart and her engagement 😭 it's what she deservesNovember 2, 2021
See more
Kristen, and Dylan, a screenwriter, have been dating since 2019—albeit privately so. The couple has been spotted around the world but both women have rarely addressed their romance.

Dylan did post a picture of Kristen on Instagram back in April, wishing her a happy 31st birthday.
---
News of the engagement broke when Kristen confirmed the rumors to Howard Stern on his SiriusXM show. "We're marrying, we're totally gonna do it," said the actress. "I wanted to be proposed to, so I think I very distinctly carved out what I wanted and she nailed it. We're marrying, it's happening."
Although it seems like Dylan was the one to propose, Kristen had previously hinted—also to Howard—that she was going to pop the question. Back in 2019, she told the host, "I have a couple of plans that are just the coolest things to do. It's pretty undeniable." She went on, "When you know, you know. You know what I mean? There is nothing like feeling sure about anything because we don't know anything. And that is the only thing you can feel like you know, is that if you're in love with someone."
Clearly, the actress has always been sure about her feelings, revealing to Howard that she told Dylan she loved her pretty early on. "The day that I met her, all bets were off," she said. "The first time I told her I loved her, it was really late, we were in some shitty bar and her friends were there or whatever and they walked out and I was just like, 'Oh, man, I'm so fucking in love with you.'"
The upcoming few months are sure to be busy ones for Kristen. In addition to her much-anticipated take on Princess Diana, the artist is set to direct her first feature film sometime in the near future. The Chronology of Water, a film adaptation of Lidia Yuknavitch's eponymous memoir, explores the author's life as a swimmer.
No specific details about the wedding have yet been released but we're already wondering whether the ghost of the Princess of Wales will make an appearance.
Anna Rahmanan is a New York-based writer and editor who covers culture, entertainment, food, fashion and travel news. Anna's words have appeared on Time Out New York, the Huffington Post, Fortune, Forbes, Us Weekly, Bon Appetit and Brooklyn Magazine, among other outlets.