Karren Brady's Secrets To Success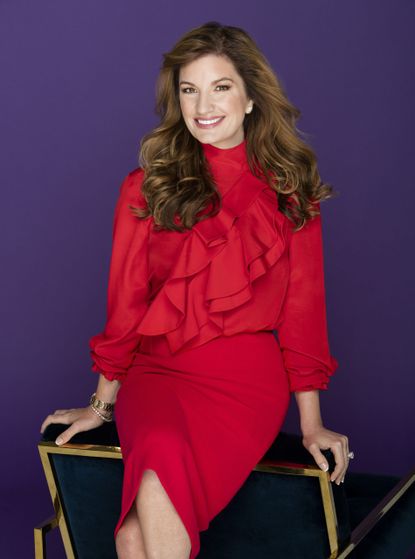 (Image credit: Trevor Leighton)
Baroness Karren Brady CBE is executive vice chairman of West Ham Football Club. She's also the government's small business ambassador, an aide to Lord Sugar on BBC's The Apprentice, and holds a number of voluntary positions. Karren lives in the West Midlands with her footballer husband, Paul Peschisolido. Their daughter, Sophia, is 20 and their son, Paolo, is 17. Here, she shares the secrets to her success and answers your business dilemmas.
On Her Priorities:
I juggle many different roles, but the majority of my time is spent at West Ham. We've recently moved to the Olympic stadium and that, with the start of a new Premier League, takes up a lot of time. But being the government's business ambassador is a big commitment too. The Apprentice is only once a year, but when we're filming it's extremely full on.
Giving back is extremely important to me. After I had a brain aneurysm I became a patron of the Stroke Association. I'm also chairman of Life Skills, which helps young people leaving school to start work. And I care passionately about getting more women on boards, so I'm also chairman of Mentore; a mentoring programme for women.
On Her Secrets to Success:
To be successful, there's no substitute for sheer hard slog. Working hard is crucial, even if it means staying until 2am to get the job done. But because I love what I do, it doesn't feel like work.
There's no doubt at all that failure is part of success.You don't know how good you are until things are not going right, but a problem is only a problem if it stops you achieving what you want to achieve. Everyone in business gets knock-backs all the time; the only thing that matters is how you react. You either accept the word "no", or you find another way to get what you want, which is what I do.
I'm driven by passion, and by loving what I do. But I know not everyone feels that they have found their passion. When my friends tell me they hate their job I always say there's no magical formula - but everyone can find their passion. However, finding it is an active process; it won't just plop into your lap.
If you don't like your job, identify all the reasons why. Work out what you do like about it, and start building up a picture of where you might be better off. My children are thinking about this at the moment and I always advise them to think about the kind of environment they'd like to be in, and the kind of people they admire and would like to work with.
It never even occurs to me that I won't be treated equally to men. And, partly as a result of that, I am - people know when you mean business! But although I expect to be treated like an equal, I never act like a man. If you try to be one of the lads it backfires.
On Family:
I spend the week working in London, but weekends are sacrosanct. They're all about family time and I work hard to protect that. Having said that, my kids can get hold of me at any time. They often call me in a meeting saying it's urgent. I step outside to take the call and it's my daughter asking me where her blue jeans are. Or my son sends a text saying, "Call me ASAP!" and when I do he says, "Dad won't give me a lift to the station, what shall I do?" So it's very much a normal family like any other.
I expect my children to make their own way. I don't force my work ethic down their throats. My son is doing his A levels and looking at universities, and my daughter is at the University of Birmingham studying education because she wants to be a teacher.
I always say that the best title for me is not Vice Chairman or Baroness; it's working mum. But when both my kids are at university and more settled, I will no longer be the cook, taxi driver and entertainments officer, so I will have time to travel more. I don't make resolutions or lists of ambitions. But I'd also like to try to make The House of Lords more of a priority, which isn't easy with a full-time job.
I know some people dread it, but I can't wait for the empty nest! I think it's great when your children start to move forward with their lives and have their own ambitions, dreams and passions. Everything you have done for them comes home to roost when you see what they get on and do.
On The Apprentice:
We always think we know who the winner will be - and we are never right! It's a very long process and because the prize is so desirable, we do get lots of interesting people apply. But many of them have either never worked with anybody else or been used to being the boss, and when you get like-minded people together you get fireworks, whichever way you look at it. Although Alan, Claude and I all think we're good at sniffing out the smooth talkers, we're often surprised by the winner of The Apprentice.
Filming is pretty gruelling, but you just have to embrace it. I wear trainers and there is a lot of what I call "Hurry up and wait". They get you up at 5am to be in some godforsaken place for 6am, then things get held up so you don't start until 8am. You've been on the road for four hours before you've done anything!
It's true that HDTV is very unforgiving. I meet people in the street who say, "You look like Karren Brady, but she's fat". I don't care - I can honestly say that I don't have an ego. What I am focused on is that The Apprentice is something I enjoy. I think I'm pretty good at it, it's a great show and I'm proud to be part of it.
I've learned a lot from Lord Sugar. Here is a man who has everything but is still hugely ambitious and totally dedicated. He works extremely hard, is passionate about what he's doing and has just taken on a new role with government. He's one of the greatest entrepreneurs of our time and a huge role model for me.
Karren Answers Your Business Dilemmas
How can I achieve a work-life balance?
Of all the things I do in my career, the juggling is the hardest. My whole life has been: sports day, board meeting, nativity play, board meeting. And when I'm at one, I know I should be at the other. I think guilt is one of the traits that women carry with them. It doesn't only relate to children either - it could be friends or parents you don't see often enough. And the last thing on your list is always yourself, and sometimes that's difficult. I can't give you a formula that will work, but when you accept that you can only do what you can do, it really helps. Sometimes work is more important than home, and sometimes home is more important than work, and you just have to keep the ball spinning. Equally, don't give yourself jobs to do that you can't do, because you're wasting your time. Be honest about the things you're good at and the things you can do.
How can I cultivate a positive and consistent team culture?
Company culture is the most important thing for delivering success in a business. It's about managing people's hearts and minds. Everyone who works for you should know where the company is going, how you're going to get there, what their individual goal is, and how success will be rewarded. On a day-to-day level a good manager sets out targets they want people to go out and deliver. As a leader, you might want to keep issues to yourself, but actually it's far better to be open about the challenges, and the things you want to change and improve.
A great strategy is to ensure everyone knows what everyone else does. My business has 800 employees. Every person spends their first day with me, seeing what it takes to run the business. I also insist that people spend time in other departments, so finance works with retail, and retail works with marketing and so on. You also need to create an environment where people feel able to question your decisions. The last thing you want is a group of like-minded people from similar backgrounds who spend their time patting each other on the back. That's when your business falls off the cliff.
How do I turn my passion into my business?
First of all, you should apply for a government start-up loan. It comes with all sorts of advice on how to write a business plan and access to free mentoring. People are often scared by the idea of a business plan. Don't be. It's simply how you're going to maintain what you've got and how you're going to grow it. There are two key things in a business, one is fixed costs and the other is variable costs. Once you've worked those out, that will help you start to bring your business plan together. This is not the same as having an action plan, however. President Eisenhower used a time management system in which he organised his workload into four categories: do first, do next, do later, don't do. I think it's important that when you approach your business you think the same way. Break it down into sections, focus on one thing at a time and see it all the way through. But the most important thing in business? Keep it simple!
I have to do a lot of negotiating with production teams, buyers or potential investors. What's the secret to being firm but friendly?
The first thing about any negotiation is knowing what you really want. The second is to be clear about what you're prepared to walk away from. And third, it's vital to engage with the person you're dealing with. Listening is an important part of negotiating. The way to start a good negotiation is to build a rapport - be interested in who they are and what they're doing. I think that makes it easier when it comes to the nitty-gritty because you can then aim to create a win-win situation for both of you. It's also vital that they understand the value of your product. Many of the negotiations that I've been in, the battle has been with the person because they don't want to give in too easily. You're dealing with their ego, not common sense. Set the tone and remember that you don't have to shout to be considered tough. Finally, there's no shame in saying, "I can't afford that," and seeing how they respond.
My business is growing fast. Would I benefit from getting outside advice, for example hiring a non-executive director?
A non-executive director is an honest, frank assessor of your business, who can introduce you to new people, and having one can be helpful. They make sure that you're doing everything with the business that you say you're doing. If you go to the bank to try and raise money, or if you're trying to get investors, they'll find it reassuring that you have a non-executive, therefore independent, director on board. Alternatively, if you're growing your own business it can be lonely, so it can be great to have a mentor. A mentor can talk you through your business problems - they're like the mother of the business because they want only good things for you. They often don't want anything in return, which is different to a non-exec director. There is a free government scheme called Mentorsme which puts people looking for business advice in touch with mentors. So never ever be afraid to ask for help because sharing information and asking for information is so important. All people can say is "no", and you're no worse off than you were before.
How can I handle a workplace bully?
I've worked in a male-dominated business all my life, and I've met some of the most aggressive people one could ever come across. Things have changed, but there are some men who will still try to bully you. You always regret the things you don't do, you very rarely regret the things you do. If someone speaks to you in an inappropriate way, you need to tell them it's inappropriate straight away. Most people just need a small push-back to stop their behaviour. Make sure you value yourself. Having integrity in everything you do, and conducting yourself in a way where people want to give you respect, is important.
Find out more
For mentoring services for small and medium-sized businesses try mentorsme.co.uk.
Find out about start-up-loans or mentoring at gov.uk. Discover what local support is available at nationalenterprisenetwork.org.
For details of events and programmes for aspiring entrepreneurs see newentrepreneursfoundation.com.
Video
Sign up to our free daily email for the latest royal and entertainment news, interesting opinion, expert advice on styling and beauty trends, and no-nonsense guides to the health and wellness questions you want answered.