Julia Child documentary—all you need to know about the legendary chef and the new film that focuses on her formative years
A new Julia Child documentary will explore the life of the chef through the eyes of friends and family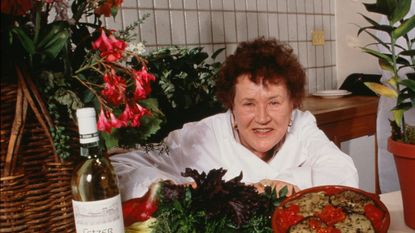 (Image credit: George Rose/Getty Images)
A new Julia Child documentary is sure to titillate your taste buds.
Julia, directed by Betsy West and Julie Cohen, will focus on interviews with the famous chef's family and friends, also showcasing recreations of some of her most recognizable recipes to date.
Who is Julia Child?
Born in Pasadena, California on August 15, 1921, Julia Carolyn McWilliams was a chef and TV personality that rose to fame following the release of Mastering the Art of French Cooking, a cookbook seeking to introduce European flavors to American palates.
Julia eventually starred in a series of TV shows that propelled her to even higher levels of fame, including Cooking with Master Chefs, In Julia's Kitchen with Master Chefs, Baking with Julia, Julia Child & Jacques Pépin Cooking at Home and The French Chef, arguably her most recognizable title.
---
What is the new Julia Child documentary about?
The new Julia Child documentary, set to premiere before the end of the year, will explore the chef's life through interviews with friends and family. It will be divided into three parts, the first one exploring her California upbringing under the eyes of strict parents and her joining the Office of Strategic Services during World War II, when she met her future husband Paul Child.
Expect the narrators to read through countless diary entries and letters while discussing the couple's love story and Julia's first encounter with French cuisine, which resulted in her penning Mastering the Art of French Cooking.
The second section of the film focuses on the couple's life in Cambridge, Massachusetts, likely dissecting why they never had children. Archival footage takes viewers through an old GBH segment during which Julia cooked a memorably fluffy omelet while promoting her cookbook. The episode escalated her fame, as highlighted in the documentary.
The final portion of the program chronicles the latter part of Julia's career and life, all through her eventual 2004 passing at the age of 91.
When does the Julia Child documentary come out?
Julia is set to open in New York and Los Angeles theaters on November 12. A wider national release date is yet to be announced but it will likely be before 2022.
Anna Rahmanan is a New York-based writer and editor who covers culture, entertainment, food, fashion and travel news. Anna's words have appeared on Time Out New York, the Huffington Post, Fortune, Forbes, Us Weekly, Bon Appetit and Brooklyn Magazine, among other outlets.