Julia Bradbury shares post-mastectomy selfie from hospital bed as she details 'overwhelming and brutal' surgery in raw Instagram post
Julia Bradbury declared that she "chose life" after undergoing a mastectomy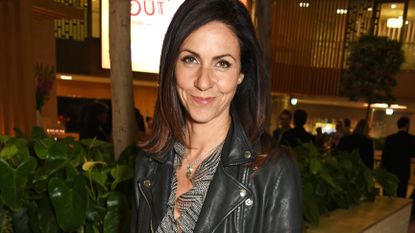 (Image credit: Photo by David M. Benett/Dave Benett/Getty Images)
Julia Bradbury shared a selfie from her hospital bed after undergoing a mastectomy, telling her Instagram followers that she "chose life" in a raw, post-surgery statement.
Why did Julia Bradbury have a mastectomy?
Julia revealed that she had been diagnosed with breast cancer earlier this year, ahead of surgery to remove her left breast.
In September, the TV presenter and former Countryfile host urged people to check for breast cancer with regular self-examinations and to look out for early breast cancer signs as she revealed that she was set to have six-centimetre tumor removed.
Taking to social media to open up about the vital procedure, Julia, 51, uploaded a selfie taken from her hospital bed, with her newly-scarred chest on show this week.
Looking ahead to her recovery and getting honest about the process of the life-changing surgery, Julia penned, "I'm out of surgery. These will be my new companions for the coming weeks & months. I need a drain to channel surplus blood from the surgery & I have to wear a special post- breast surgery/mastectomy designed bra for the next 6 weeks to protect my upper body post-op."
Giving a heartbreaking insight into why she went ahead with the mastectomy, Julia described how her children were her motivation to undergo the tough surgery.
"I feel relief that the operation is over. The anxiety leading up to it was overwhelming. I feel sad that such a brutal treatment is necessary in so many breast cancer cases, but I choose life.
"I will do anything I can to live to see my children grow up & if this was happening to any other member of my family, or them, I would swap places in a heartbeat."
Julia shares three children with her husband Gerard Cunningham—Zeph, ten, and six-year-old twins Zena and Xanthe.
In her touching message, Julia highlighted the devastating reality of breast cancer statistics, following the recent news that people with breast cancer are paying the price for the pandemic amid a huge treatment and diagnosis backlog.
"I've now joined a sadly ever- growing club. Around 18,000 mastectomies are performed on the NHS in England every year. That's up 50% in the past 10 years," she wrote.
"(Roughly 100,000 women have a mastectomy in the U.S. every year.) Since the 90's breast carcinoma in situ (the type of cancer I was diagnosed with) has tripled in women & doubled in men.

"One person every 10 minutes gets diagnosed with breast cancer."
Julia's candid post comes after she bid an emotional goodbye to her left breast along side a topless photo of her snapped in the mirror ahead of her last walk in her pre-mastectomy body.
"I'm going for my last walk in this body. I'm going for my last walk with these boobs. One of the the best bits of advice I've received in the weeks of my breast cancer diagnosis (thank you) .. is to say goodbye to my breast and to thank my body for all the sustenance, joy & life it has given me," she wrote.
"Goodbye left boob.. I've breastfed my children with you, I've jumped into the sea with you, I've walked thousands of miles with you. And you've given me (and some others 😅) pleasure along the way. Now it's time to make way for something new."