John Legend reveals why he and Chrissy Teigen 'shower together a lot'
John Legend opens up on his shower habits with Chrissy Teigen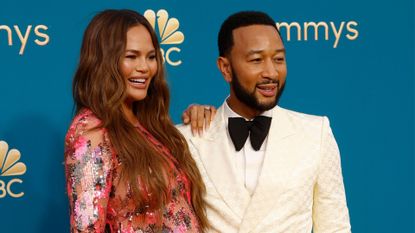 (Image credit: Getty Images)
John Legend got candid about why he and Chrissy Teigen often shower together... and it might not be for the reason you're thinking.
John Legend and Chrissy Teigen are one of America's most talked-about couples - so it's no surprise people are curious about how the couple spends their evenings. In a recent interview (opens in new tab), John opened up about his new self-care brand, Loved01, and how his family played a big part in its creation.
"I get it, another celebrity skin-care line is just what the world needs," says John Legend in the interview. But in a new and refreshing take on celebrity brands, John says he's focusing Loved01 toward being accessible, specifically for people of color. "I wanted to bring something to people who look like me in stores where they shop and at a price they can afford," he says. "Everyone deserves to have beautiful skin."
The products from Loved01, which can be found in widespread retailers like CVS and Walmart, are inspired by the nights John spends with his family - particularly his wife, Chrissy Teigen, who John recently praised for being open about her pregnancy loss.
He says in the interview that he'll often spend nights with Chrissy by doing skincare together in the shower, as it is a bonding activity in their marriage. "We shower a lot together, not to get too graphic," he says. He continued that this time spent together in the bath or shower is great for them to grow closer while exchanging tips about skincare and personal care.
John says that he and Chrissy try to get everyone in the family (including his three kids) to sleep by 11pm every night to ensure that everyone gets a full eight hours, as the little ones in his house, including his three-year-old Esti, tend to wake up around 7am.
Aside from spending that quality time with Chrissy, John reveals that his other must-dos for his self-care routine include drinking a lot of water, seeing as he has to keep his voice in tip-top shape for his job.
Loved01, which will launch in CVS and Walmart on February 1, includes skincare products that are gender-neutral, affordable, and include popular skincare ingredients like jojoba oil, rosehip oil, shea butter, green tea, and other natural goodies. So, if you're looking to reset your skincare routine, these products could come in handy.
John revealed that, when making Loved01, he kept his own skincare concerns, like blackhead removal and how to keep his melanated skin protected, in mind. One of the things he does to aid in protecting his skin is getting two facials per month (what a life to live) - which obviously isn't accessible to everyone, and he kept this in mind when creating his Loved01 products. "I'm aware that some people can't afford facials, that's why more luxury-style products at affordable prices are needed," he says.
Madeline Merinuk is woman&home's US lifestyle news writer. She covers celebrity, entertainment, fashion, and beauty news but is also obsessed with internet trends - you can find her reciting trending TikTok sounds out loud at any given time.
After winning multiple student journalism awards for her investigative work, she graduated from Hofstra University in 2021 with a B.A. in Journalism. After graduating, she worked at today.com, the digital site for the Today Show, where she wrote pop culture news and interviewed big-name personalities like Emily Ratajkowski, Haley Lu Richardson, Emma Corrin, and more.
Her personal interests, in no particular order, are: cheese, Joni Mitchell, reading, hot yoga, traveling, having multiple chapsticks in every handbag at all times, and dancing to ABBA songs as if she were in the Mamma Mia movies.