Jessica Simpson reveals she was in a secret relationship with this 'massive movie star'
Jessica Simpson goes into detail about secret relationship with a "massive movie star" she met while on a break from ex-husband Nick Lachey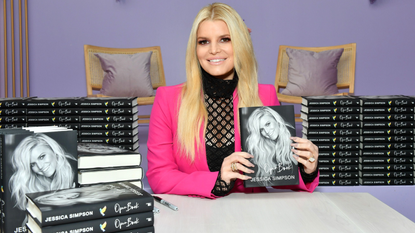 (Image credit: Amy Sussman / Staff)
Jessica Simpson is all about sharing personal details about her life.
Just a few months after revealing the secret behind her 100-pound weight loss, the 42-year-old singer and entrepreneur penned an essay for Amazon titled Movie Star: They Always Say They're Single (opens in new tab) in which she opened up about a secret relationship with a man that she simply described as a "massive movie star."
Although Jessica did not reveal the celebrity's name in her piece, only referring to him as "Movie Star" throughout it, she did mention first meeting him at the 2001 MTV Video Museum Awards on September 6 of that year, while her and now-ex-husband Nick Lachey were on a break.
"This megastar, who I grew up thinking was so hot, eyeballed me up and down," wrote Jessica. "Like he was undressing me with his eyes."
The star went further, specifically stating that she "wasn't ready" to flirt with the mystery man during the after-party and so went home. She then bumped into him at the gym while in Los Angeles and, by her own account, invited him to be part of one of her future music videos. He gave her his phone number.
"'You could be my lead guy,' I offered to this man who made millions and millions per film," she wrote in the personal essay.
Just a few days later, after the horrendous 9/11 attacks, Nick actually reached out to Jessica and the two officially got back together - so Jessica never ended up calling or meeting up with "Movie Star."
As fans know well, Nick and Jessica got married in 2002 but divorced a few years later, in 2006. That's when Jessica saw the movie star at the Beverly Hills Hotel where she revealed he kissed her.
"I felt this warm rush all the way down my body to the tips of my toes in my wedges," she said in the essay before explaining that she then noticed a photo of the guy with his girlfriend on the red carpet.
Jessica confronted "Movie Star" ("I was never ever in a million years going to be the other woman," she wrote), who told her that the girlfriend was actually moving out and Jessica was "the only girl I want to be with. You're it."
Going even more into detail, Jessica explained how she believed him and even joined him on a film set but was asked to access his hotel room from a private entrance through the back stairs so the press wouldn't catch her.
"Yes, there was something sexy and enticing about all this, but there was also something demeaning about it," reads her essay. "I felt like a call girl."
Describing her experience in the room, Jessica remembered the man "blurting" out: "Why aren't we having sex?"
"I didn't care if he was my teenage fantasy come to life, this was not a choice that same girl, my younger self, would be proud of," Jessica wrote, pointing out she immediately realized that he was trying to "hide me from his chick." The next morning, Jessica left while the star was still on set. He eventually called her "weeping."
The personal essay clearly resonated and shocked Jessica's fans, especially considering that, just a few years ago, the celebrity released a pretty wide-ranging autobiography in which she made a slew of other revelations that surprised readers.
In 2020's aptly titled Open Book, Jessica got candid about her body image issues, her complicated relationship with father Joe Simpson and her marriage to current husband Eric Johnson, with whom she now shares 10-year-old daughter Maxwell, 9-year-old son Ace and 3-year-old daughter Birdie.
Power to Jessica for always being so honest!
Anna Rahmanan is a New York-based writer and editor who covers culture, entertainment, food, fashion and travel news. Anna's words have appeared on Time Out New York, the Huffington Post, Fortune, Forbes, Us Weekly, Bon Appetit and Brooklyn Magazine, among other outlets.