Jennifer Lawrence just revealed why filming with Leonardo DiCaprio and Timothée Chamalet was 'the most annoying day' of her life
Jennifer Lawrence opened up about her return to the screen with Don't Look Up on The Late Show With Stephen Colbert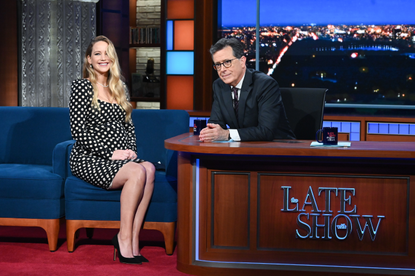 (Image credit: CBS Photo Archive / Contributor)
While promoting her new film, Don't Look Up, Jennifer Lawrence revealed that a particular day of shooting with co-stars Leonardo DiCaprio and Timothée Chamalet left her incredibly annoyed.
The hilarious actress, who is expecting her first child with husband Cooke Maroney, made the comments earlier this week while on The Late Show With Stephen Colbert.
"It was the most annoying day in my life," she recounted. "They drove me crazy that day."
"I don't know what it was," she continued, also revealing the scene they were shooting took place in a car. "Timothée was just excited to be out of the house. I think it was, like, his first scene. And Leo had picked the song that was playing in the car and was just, like, 'You know, this song was about, you know, blah, blah, blah.'"
Gaining laughs from the audience, Jennifer also recalled the time she shared a bathroom with the two actors and their other co-star, Meryl Streep (whom they apparently referred to as "the GOAT" throughout filming).
"We had to share a bathroom [because of COVID-19 restrictions] while shooting," she said. "And I lost a tooth pretty soon in the beginning of [filming] and I couldn't go to the dentist because of COVID-19 so they just CGI-d [a tooth on me]." That episode obviously drew a ton of laughs.
Don't Look Up, set to land on Netflix later this month, is a new apocalyptic comedy by Adam McKay that tells the story of two astronomers (Jennifer and Leo) who have to go on a media tour to warn the general population of an approaching comet set to destroy planet Earth. The stellar cast is rounded out by Chris Evans, Jonah Hill, Ariana Grande, Tyler Perry, Matthew Perry and Cate Blanchett, among other actors.
The film, Jennifer's first since her 2019 role in Dark Phoenix, actually marks the actress' return to the screen. Back in 2018, she announced that she was going to take a hiatus from acting in order to re-calibrate.
Throughout her years on a break, she did, however, find the time to urge Americans to support a voting rights bill, calling out the Republican party for manipulating the US voting system in a powerful video.
For what it's worth, we're delighted to see her back on our screens doing what she does best.
Anna Rahmanan is a New York-based writer and editor who covers culture, entertainment, food, fashion and travel news. Anna's words have appeared on Time Out New York, the Huffington Post, Fortune, Forbes, Us Weekly, Bon Appetit and Brooklyn Magazine, among other outlets.