Jennifer Grey catches someone watching Dirty Dancing on her flight and her reaction is hilarious
Star of Dirty Dancing, Jennifer Grey posts a video on Instagram while spying someone watching her iconic movie on a plane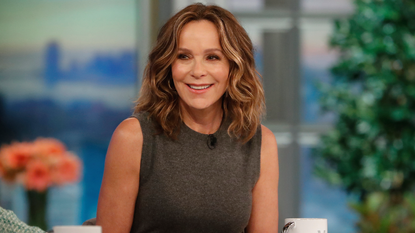 (Image credit: Lou Rocco / Contributor)
Nobody puts Baby in the corner, not even on a flight.
Jennifer Grey, who recently opened up about fraught relationship with Patrick Swayze on the set of Dirty Dancing, caught a fan watching her iconic movie while on the same flight as hers earlier this week - and the star put up an Instagram video documenting the experience.
Jennifer captioned the post, "on a plane this valentine's day and lookit what i spy with my little 👁️!! #dirtydancing."
Fans immediately took notice of the clip and thought it hilarious, advising the 62-year-old actress to perhaps approach her fellow passenger... and make her day?
"Freak her out. Tap her on the shoulder," someone commented.
"You should [have] ran down the isle and did the jump lift lol," another follower hilariously suggested.
"Did the lady freak out when she saw that you were sitting behind her?," a third one simply asked.
As all of her fans know, Jennifer played Frances "Baby" Houseman in the 1987 rom-com, which has garnered cult status throughout the years and is actually supposedly getting a sequel.
Jennifer herself revealed Dirty Dancing sequel details ahead of the release of her 2022 memoir, which was aptly named Out of the Corner.
In an interview with PEOPLE (opens in new tab) last year, Jennifer confirmed that the film is in the works.
"It was lightning in a bottle, it's like this thing happened, and it's so beautiful, and I can't explain it," she said about the sequel. "No one can explain it. We're working on this sequel, I'm working on it with Lionsgate and working on the script. We've been working on it for a couple of years. And I know in my heart, I would love to give fans or a young, new audience an experience that would never replicate that, but has the same kind of underpinnings."
She went on to dissect the different world order that the production has to contend with. "Today people think that their identity is limited, the world has told them what it is," she said. "But there are certain people who can see other parts of you. Dirty Dancing was a fairy tale, a successful movie and formula, using dance as a metaphor for embodying your energy and getting out of your head, and your limiting belief systems."
As of now, no details have yet been released about the plot or cast of the production, although Jennifer is reportedly in talks to reprise her iconic role.
Patrick unfortunately passed of pancreatic cancer at the age of 57 back in 2009, before a sequel was ever even discussed, so it's yet unclear who will star opposite Jennifer.
Who knows? In just a few years, Jennifer might bump into yet another fan on a plane trip, this time catching them screening the sequel to her famous '80s movie.
Anna Rahmanan is a New York-based writer and editor who covers culture, entertainment, food, fashion and travel news. Anna's words have appeared on Time Out New York, the Huffington Post, Fortune, Forbes, Us Weekly, Bon Appetit and Brooklyn Magazine, among other outlets.