James Martin leaves This Morning viewers in shock with calorie packed recipe segment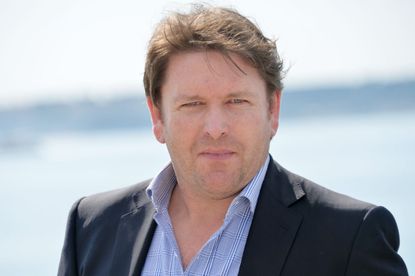 (Image credit: Getty)
This Morning viewers were left in shock by James Martin's cooking segment on today's show.
The TV chef appeared on the ITV smash hit once again for a spot of Monday morning cooking, showing fans of the show how to whip up a batch of prawn cocktail using homemade mayonnaise.
During the feature, food pro James could be seen blending up eggs with huge amounts of olive oil in order to make his very own mayo.
But some viewers took to social media to express some concern over the calorie content in the condiment, while host Holly Willoughby (opens in new tab) couldn't quite believe the amount of oil involved.
'Bl**dy hell how much oil does James want to use#Thismorning,' asked one Twitter user.
'5 billion calories a sandwich #Thismorning,' joked another.
'Is James Martin gonna use a litre of oil and a block of butter? #ThisMorning,' agreed another.
READ MORE:James Martin urged by fans to change careers after he shows off 'amazing' new skills on This Morning (opens in new tab)
Meanwhile, other viewers were keen to point out some much easier ways to make a prawn cocktail sauce at home.
'Why's he faffing around with eggs? Salad cream, tomato puree, job done. #ThisMorning,' one Tweeter said.
'James Martin is making Marie Rose sauce with egg yolks, oil, mustard, tabasco, Worcester sauce and a plethora of other ingredients. I make mine by mixing tomato ketchup and salad cream. Tastes the same,' another insisted.
James' This Morning gig came after he spent the weekend re-opening his restaurant for so-called Super Saturday.
Ahead of the big re-launch, James spent his birthday prepping for customers to return in a socially distanced way.
Taking to social media, he wrote, 'Thank you for all the birthday messages… spent it cleaning and painting the restaurant ready for reopening. Can't wait to get back in the kitchen… cheers!'